N OT EVERY operator wants to carry maximum payloads. For some,
30th November 1985
Page 40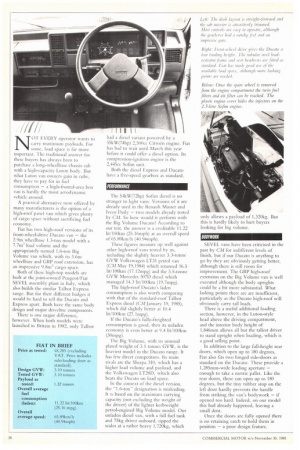 Page 41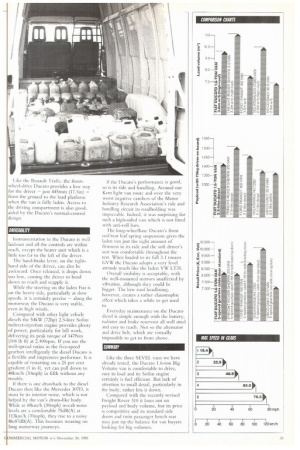 Page 40, 30th November 1985 —
N OT EVERY operator wants to carry maximum payloads. For some,
Close
load space is far more important. The traditional answer for these buyers has always been to purchase a long-wheelbase chassis cab with a high-capacity Luton body. But what Luton van owners gain in cube, they have to pay for in fuel consumption — a high-frontal-area box van is hardly the most aerodynamic vehicle around.
A practical alternative now offered by many manufacturers is the option of a high-roof panel van which gives plenty of cargo space without sacrificing fuel economy. Fiat has two high-roof versions of its front-wheel-drive Ducato van — the 2.9m wheelbase 1.3-ton model with a 7.7m3 load volume and the appropriately named 1.6-ton Big Volume van which, with its 3.6m wheelbase and GRP roof extension, has an impressive 9.8m3 cargo space. Both of these high-top models are built at the joint-owned Peugeot/Fiat SEVEL assembly plant in Italy, which also builds the similar Talbot Express range. But for their different badges it would be hard to tell the Ducato and Express apart. Both have the same body design and major driveline components. There is one major difference, however. When both models were launched in Britain in 1982, only Talbot had a diesel variant powered by a 55kW(74hp) 2,500cc Citroen engine. Fiat has had to wait until March this year before it could offer a diesel option. Its compression-ignition engine is the 2,445cc Sofim unit. Both the diesel Express and Ducato have a five-speed gearbox as standard.
PERFORMANCE
The 54kW(72hp) Sofim diesel is no stranger to light vans. Versions of it arc already used in the Renault Master and Iveco Daily — two models already tested by CM. So how would it perform with the Big Volume Ducato? According to our test, the answer is a creditable 11.22 lit/100km (25.16mph) at an overall speed of 65.89km/h (40.94mph).
These figures measure up well against other high-roof vans tested by us, including the slightly heavier 3.3-tonne GVW Volkswagen LT31 petrol van (CM May 19,1984) which returned 16.5 lit/100km (17.12mpg) and the 3.5-tonne GVW Mercedes 3071) diesel which managed 14.3 lit/RX)km (19.7mpg). The high-roof Ducato's laden consumption is also worth comparing with that of the standard-roof Talbot Express diesel (CM January 19, 1985), which did slightly better at 10.4 lit/100km (27.1mpg).
lithe Ducato's fully-freighted consumption is good, then its unladen economy is even better at 9.4 lit/100km (30mpg).
The Big Volume, with its unusual plated weight of 3.1 tonnes GVW, is the heaviest model in the Ducato range. It has few direct competitors. Its main rivals are the Sherpa 310, which has a higher load volume and payload, and the Volkswagen LT281), which also beats the Ducato on load space. In the context of the diesel version, the "1.6-ton" designation is misleading. It is based on the maximum carrying capacity (not excluding the weight of the driver) of the lighter kerbweight petrol-engined Big Volume model. Our unladen diesel van, with a full fuel tank and 75kg driver onboard, tipped the scales at a rather heavy 1,720kg, which
only allows a payload of 1,320kg. But this is hardly likely to hurt buyers looking for big volume.
BODYWORK
SEVEL vans have been criticised in the past by CM for indifferent levels of finish, but if our Ducat° is anything to go by they are obviously getting better, although there is still room for improvement. The GRP high-roof extension on the Big Volume van is well executed although the body uprights could be a bit more substantial. What lashing points there are are insufficient, particularly as the Ducato high-roof will obviously carry tall loads.
There is a useful additional loading section, however, in the Luton-style head above the driving compartment, and the interior body height of 1,846mm allows all but the tallest driver to stand upright when loading, which is a good selling point.
In addition to the large full-height rear doors, which open up to 180 degrees, Fiat also fits two hinged side-doors as standard on the Ducat°. These provide a 1,285mm-wide loading aperture — enough to take a metric pallet. Like the rear doors, these can open up to 180 degrees, but the tiny rubber stop on the left door hardly prevents the handle from striking the van's bodywork — if opened too hard. Indeed, on our model this had already happened, leaving a small dent.
Once the doors are fully opened there is no retaining catch to hold them in position — a poor design feature. Like the Renault Trafic, the frontwheel-drive Ducato provides a low step for the driver just 445mm (17.5in) from the ground to the load platform when the van is fully laden. Access to the driving compartment is also good, aided by the Ducato's normal-control design.
DRIYBIBILITY
Instrumentation in the Ducato is well laid-out and all the controls are within reach, except the heater unit which is a little too far to the left of the driver.
The hand-brake lever, on the righthand side of the driver, can also be awkward. Once released, it drops down too low, causing the driver to bend down to reach and reapply it.
While the steering on the laden Fiat is on the heavy side, particularly at slow speeds, it is certainly precise along the motorway the Ducat° is very stable, even in high winds.
Compared with other light vehicle diesels the 54kW (72hp) 2.5-litre Sofirn indirect-injection engine provides plenty of power, particularly for hill work, delivering its peak torque of '147Nm (108 lb ft) at 2,400rpm. If you use the well-spread ratios in the five-speed gearbox intelligently the diesel Ducat() is a flexible and impressive performer. It is capable of restarting on a 25 per cent gradient (1 in 4), yet can pull down to 48km/h (30mph) in fifth without any trouble.
If there is one drawback to the diesel Ducato then like the Mercedes 3071), it must be its interior noise, which is not helped by the van's drum-like body. While at 48km/h (30mph) in-cab noise levels are a comfortable 75dB(A) at 113km/h (70mph), they rise to a noisy 86-87dB(A). This becomes wearing on long motorway journeys. lithe Ducato's performance is good, so is its ride and handling. Around our Kent light van route and over the very worst negative cambers of the Motor Industry Research Association's ride and handling circuit its roadholding was impeccable. Indeed, it was surprising for such a high-sided van which is not fitted with and-roll bars.
The long-wheelbase Ducato's front coil/rear leaf spring suspension gives the laden van just the right amount of firmness in its ride and the soft driver's seat was comfortable throughout the test. When loaded to its full 3.1 tonnes GVW the Ducat° adopts a very level attitude much like the laden VW LT31.
Overall visibility is acceptable, with the well-mounted mirrors unaffected by vibration, although they could be bigger. The low root-headlining, however, creates a rather claustrophic effect which takes a while to get used to.
Everyday maintenance on the Ducato diesel is simple enough with the battery, radiator and brake reservoir all well sited and easy to reach. Not so the alternator and drive belt, which are virtually impossible to get to from above.
SUMMARY
Like the three SEVEL vans we have already tested, the Ducat° 1.6-ton Big Volume van is comfortable to drive, easy to load and its Sofim engine certainly is fuel efficient. But lack of attention to small derail. particularly in the body, rather lets it down.
Compared with the recently revised Freight Rover 310 it loses out on payload and body volume, but its price is competitive and its standard side doors and twin passenger bench seat may just tip the balance for van buyers looking for big volumes.