EDITORIAL,
30th November 1985
Page 4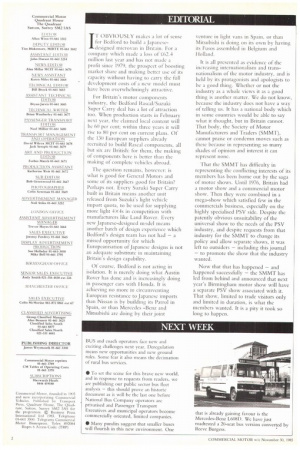 Page 4, 30th November 1985 —
EDITORIAL,
Close
Keywords :
Car Manufacturers
,
British Brands
,
Off-road Vehicles
,
British International Motor Show
,
Transport In The United Kingdom
,
Society Of Motor Manufacturers And Traders
,
Suzuki
,
Land Rover
,
Van
,
Automotive Industry
,
Rover Company
,
Mitsubishi Motors
IT OBVIOUSLY makes a lot of sense for Bedford to build a Japanesedesigned microvan in Britain. For a company which made a loss of :62.4 million last year and has not made a profit since 1979, the prospect of boosting market share and making better use of its capacity without having to carry the full development costs of a new model must have been overwhelmingly attractive.
For Britain's motor components industry, the Bedford Rascal/Suzuki Super Carry deal has a lot of attraction too. When production starts in February next year, the claimed local content will be 60 per cent; within three years it will rise to 80 per cent on current plans. Of the 130 European suppliers already recruited to build Rascal components, all but six are British: for them, the making of components here is better than the making of complete vehicles abroad.
The question remains, however: is what is good for General Motors and sonic of its suppliers good for Britain? Perhaps not. Every Suzuki Super Carry built in Britain means another unit released from Suzuki's light vehicle import quota, to be used for supplying more light 4X4s in competition with manufacturers like Land Rover. Every new Japanese-designed model means another batch of design experience which Bedford's design team has not had — a missed opportunity for which Europeanisation of Japanese designs is not an adequate substitute in maintaining Britain's design capability.
Of course, Bedford is not acting in isolation. It is merely doing what Austin Rover has done and is increasingly doing in passenger cars with I londa. It is achieving no more in circumventing European resistance to Japanese imports than Nissan is by building its Patrol in Spain, or than Mercedes -Benz and Mitsubishi are doing by their joint venture in light vans in Spain, or than Mitsubishi is doing on its own by having its Fusos assembled in Belgium and Holland.
It is all presented as evidence of the increasing internationalism and transnationalism of the motor industry, and is held by its protagonists and apologists to be a good thing. Whether or not the industry as a whole views it as a good thing is another matter. We do not know, because the industry does not have a way of telling us. It has a national body which in somc countries would be able to say what it thought, but in Britain cannot. That body, the Society of Motor Manufacturers and Traders (SMMT), cannot praise or condemn moves such as these because in representing so many shades of opinion and interest it can represent none.
That the SMMT has difficulty in representing the conflicting interests of its members has been borne out by the saga of motor shows. Until 1976, Britain had a motor show and a commercial motor show. Then they were combined in a mega-show which satisfied few in the commercials business, especially on the highly specialised PSV side. Despite the patently obvious unsuitability of the universal show to the needs of the PSV industry, and despite requests from that industry for the SMMT to change its policy and allow separate shows, it was left to outsiders — including this journal — to promote the show that the industry wanted.
Now that that has happened — and happened successfully — the SMMT has lcd from behind and announced that next year's Birmingham motor show will have a separate PSV show associated with it. That show, limited to trade visitors only and limited in duration, is what the members wanted. It is a pity it took so long to happen.