SIMPLE ANSWERS
30th November 1985
Page 32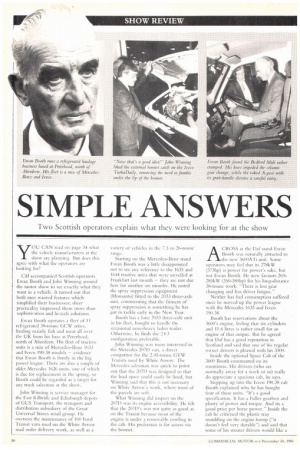 Page 33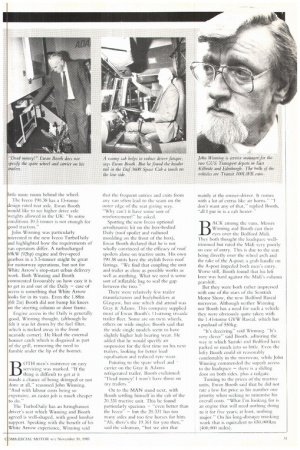 Page 32, 30th November 1985 —
SIMPLE ANSWERS
Close
rwo Scottish operators explain what they were looking for at the show
yOti CAN read on page 34 what the vehicle manufacturers at the show are planning. But does this agree with what the operators are looking for?
CM accompanied Scottish operators Ewan Booth and John Winning around the motor show to see exactly what they want in a vehicle, it turned out that both men wanted features which simplified their businesses; sheer practicality impressed them more than sophistiration and hi-tech solutions.
Ewan Booth operates a fleet of I I refrigerated 38-tonne GC W artics, hauling mainly fish and meat all over the UK from his base at Peterhead, north of Aberdeen. His fleet of tractive units is a mix of Mercedes-Benz 1633 and Iveco 190.38 models — evidence that Ewan Booth is firmly in the big power league. There are also a couple of older Mercedes 1626 units, one of which is due for replacement in the spring, so Booth could be regarded as a target for any truck salesman at the show.
John Winning is service manager for the East Kilbride and Edinburgh depots of GUS Transport, the transport and distribution subsidiary of the Great Universal Stores retail group. I le oversees the maintenance of 100 Ford Transit vans used on the White Arrow mail order delivery work, as well as a variety of vehicles in the 7.5 to 26-tonne range.
Starting on the Mercedes-Benz stand Ewan Booth was a little disappointed not to see any reference to the 1635 and 1644 tractive units that were unveiled at Frankfurt last month — they are not due here for another six months. He noted the spray suppression equipment (Monsanto) firted to the 2033 three-axle unit, commenting that the fitment of spray suppression is something he has got to tackle early in the New Year.
Booth has a lone 2033 three-axle unit in his fleet, bought to handle the occasional nose-heavy laden trailer. Otherwise, he finds the 2+3 configuration preferable.
John Winning was more interested in the Mercedes 2071) van, a direct competitor tbr the 2.45-tonne GVW Transits used by White Arrow. The Mercedes salesman was quick to point out that the 2071) was designed so that the load space could easily be lined, but Winning said that this is not necessary on White Arrow's work, where most of the parcels are soft.
What Winning did inspect on the 2071) was its engine accessibility. He felt that the 2(171)'s was not quite as good as on the Transit because most of the engine is under a removable cowling in the cab. His preference is for access via the bonnet.
ACROSS at the Daf stand Ewan Booth was naturally attracted to the new 3600ATi unit. Some operators may feel that its 278kW (373hp) is power for power's sake, hut not Ewan Booth. He now favours 260285kW (350-380hp) for his long-distance 38-tonne work: "There is less gear changing and less driver fatigue."
Neither has fuel consumption suffered since he moved up the power league with the Mercedes 1633 and lyeco 190.38.
Booth has reservations about the 3600's engine, feeling that six cylinders and 11.6 litres is rather small for an engine of that output. But he agreed that Daf has a good reputation in Scotland and said that one of his regular owner drivers is pleased with his 3300.
Inside the optional Space Cab of the 3600 Booth commented on its roominess. His drivers (who are normally away for a week or so) really do appreciate a spacious cab, he says. .
Stepping up into the Iveco 190.38 cab Booth explained why he has bought four of these units. "It's a good specification. It has a Fuller gearbox and plenty of power and torque. And its a good price per horse power.Inside the cab he criticised the plastic tray moulding on the engine hump ("it doesn't feel very durable-) and said that some of his stouter drivers would like a
ittle more room behind the wheel. The Iveco 190.38 has a I3-tonne csign rated rear axle. Ewan Booth ould like to see higher drive axle 'eights allowed in the UK: "In some -onditions 103 tonnes is not enough for rood traction."
John Winning was particularly -nterested in the new Iveco TurboDaily nd highlighted how the requirements of van operators differ. A turbocharged 9kW (92hp) engine and five-speed earbox in a 3.5-tonner might be great for motorway operations, but not for White Arrow's stop-start urban delivery work. Both Winning and Booth commented favourably on how easy it is to get in and out of the Daily — ease of access is something that White Arrow looks for in its vans. Even the 1.88m (hit 2in) Booth did not bump his knees on the steering column or door frame.
Engine access in the Daily is generally good, Winning thought, (although he felt it was let down by the fuel filter, which is tucked away in the front nearside corner). He liked the external bonnet catch which is disguised as part of the grill, removing the need to fumble under the lip of the bonnet.
B0,. men's insistence on easy servicing was marked. "If the thing is difficult to get at it stands a chance of being skimped or not done at all," reasoned John Winning. "And with labour costs being so expensive, an easier job is much cheaper to do."
The TurboDaily has an Isringhausen driver's seat which Winning and Booth agreed is well-shaped, with good lumbar support. Speaking with the benefit of his White Arrow experience, Winning said that the frequent entries and exits from any van often lead to the seam on the outer edge of the seat giving way. "Why can't it have sonic sort of reinforcement?" he asked.
Spotting the new Iveco optional aerodynamic kit on the box-bodied Daily (roof spoiler and radiused
moulding on the front of the box), Ewan Booth declared that he is not wholly convinced of the efficacy of roof spoilers alone on tractive units. Ilk Own 190.38 units have the stylish Iveco roof fairings. "'We find that coupling the unit and trailer as close as possible works as well as anything. What we need is some sort of inflatable bag to seal the gap between the two.
There were relatively few trailer manufacturers and bodybuilders at Glasgow, but one which did attend was Gray & Adams. This company supplied most of Ewan Booth's 11-strong tri-axle trailer fleet. Sonic are on twill wheels, others on wide singles; Booth said that the wide single models seem to have slightly higher hub bearing wear. Ile added that he would specify air suspension for the first time on his next trailers, looking for better load equalisation and reduced tyre wear.
Pointing to the spare wheel and • carrier on the Gray & Adams refrigerated trailer, Booth exclaimed: "Dead money! I won't have those on my trailers."
On to the MAN stand next, with Booth settling himself in the cab of the 20,331 tractive unit. This he found particularly spacious — "even better than the lveco" — but the 20.331 has too many axles and too kw horses for him. "Ah, there's the 19,361 for you then,'' said the salesman, "but we aim that mainly at the owner-driver. It comes with a lot of extras like air horns." "1 don't want any of that," replied Booth, "all I put in is a cab heater."
BACK among the vans, Messrs Winning and Booth cast their eyes over the Bedford Midi. They both thought the loadspace welltrimmed but rated the Midi very poorly on ease of entry. This is due to the scat being directly over the wheel arch and the rake of the A-post: a grab handle on the A-post impeded both men's entry. Worse still, Booth found that his left knee was hard against the Midi's column gearshift.
But they were both rather impressed with one of the stars of the Scottish Motor Show, the new Bedford Rascal microvan. Although neither Winning nor Booth has a need for such a vehicle they were obviously quite taken with the 1.41-tonne GVW Rascal, which has a payload of 550kg.
"It's deceiving" said Winning. "It's very clever" said Booth, admiring the way in which Suzuki and Bedford have packed so much into so little. Even the lofty Booth could sit reasonably comfortably in the microvan. while John Winning commended the superb access to die loadspace — there is a sliding door on both sides, plus a tailgate.
Turning to the prices of the tractive units, Ewan Booth said that he did not rate a low list price as his number one priority when seeking to minimise his overall costs. "What I'm looking for is an engine that will need nothing doing to it for five years; at least, nothing major." On his long-distai:ice triinking work that is equivalent to 650,000km (400,000 miles).