SET FOR SALES
30th November 1985
Page 25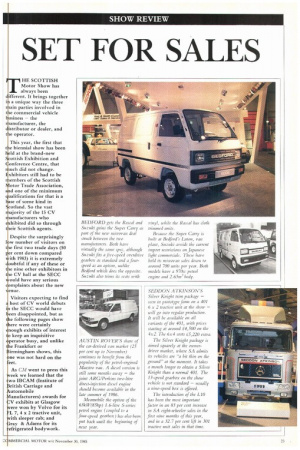 Page 25, 30th November 1985 —
SET FOR SALES
Close
THE SCOTTISH Motor Show has always been different. It brings together i-i a unique way the three main parties involved in t ie commercial vehicle 1-usiness — the manufacturer, the distributor or dealer, and tie operator.
This year, the first that t se biennial show has been held at the brand-new Scottish Exhibition and Conference Centre, that much did not change. xhibitors still had to be members of the Scottish Motor Trade Association, and one of the minimum qualifications for that is a base of some kind in Scotland. So the vast majority of the 15 CV manufacturers who exhibited did so through t ieir Scottish agents.
Despite the surprisingly low number of visitors on tie first two trade days (50 Ter cent down compared with 1983) it is extremely c. oubtful if any of these or t le nine other exhibitors in tie CV hall at the SECC would have any serious aomplaints about the new N enue.
Visitors expecting to find 2 host of CV world debuts in the SECC would have been disappointed, but as die following pages show /here were certainly mough exhibits of interest So keep an inquisitive operator busy, and unlike the Frankfurt or Birmingham shows, this one was not hard on the .Peet.
As CM went to press this week we learned that the wo IBCAM (Institute of 3ritish Carriage and Automobile oilanufacturers) awards for CV exhibits at Glasgow were won by Volvo for its 71. 7, 4 x 2 tractive unit, with sleeper cab; and 1/432-ay & Adams for its
• efrigerated bodywork.