A question of duty
30th November 1985
Page 22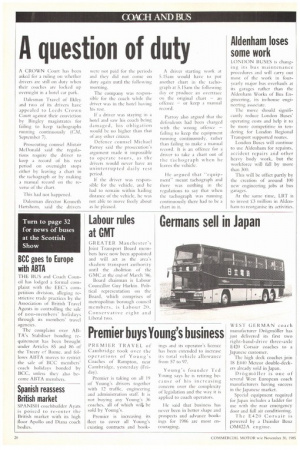 Page 22, 30th November 1985 —
A question of duty
Close
A CROWN Court has been asked for a ruling on whether drivers are still on duty when their coaches arc locked up overnight in a hotel car park.
Dalesman Travel or Ilkley and two of its drivers have appealed to Leeds Crown Court against their conviction by Bingley magistrates for failing to keep tachographs running continuously (CM, September 7).
Prosecuting counsel Alistair McDonald said the regulations require the driver to keep a record or his rest period on overnight stops either by leaving a chart in the tachograph or by making a manual record on the reverse of the chart.
This had not happened.
Dalesman director Kenneth Hartshorn, said the drivers were not paid for the periods and they did not come on duty again until the following morning.
The company was responsible for the coach while the driver was in the hotel having his rest.
If a driver was staying in a hotel and saw his coach being damaged, his obligation would be no higher than that of any other citizen.
Defence counsel Michael Parroy said the prosecution's argument made it impossible to operate tours, as the drivers would never have an uninterrupted daily rest period.
If the driver was responsible for the vehicle, and he had to remain within hailing distance of the vehicle, he was not able to move freely about as he pleased. A driver starting work at 5.15am would have to put another chart in the tachograph at 5.15am the following day or produce an overtrace On the original chart an offence or keep a manual record.
Parroy also argued that the defendents had been charged with the wrong offence failing to keep the equipment running continuously. rather than failing to make a manual record. It is an offence for a driver to take a chart out of the tachograph when he leaves the vehicle.
Ile argued that -equipment" meant tachograph and there was nothing in the regulations to say that when the tachograph was running continuously there had to be a chart in it.