Esso goes totally anti-lock
30th November 1985
Page 20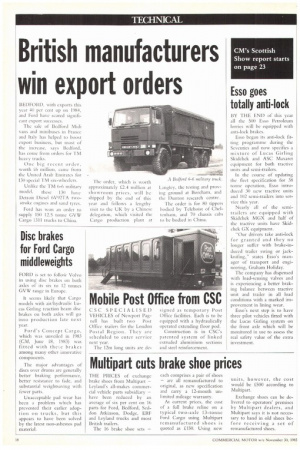 Page 20, 30th November 1985 —
Esso goes totally anti-lock
Close
BY THE END of this year all the 500 Esso Petroleum lorries will be equipped with anti-lock brakes.
Esso began its anti-lock fitting programme during the Seventies and now specifies a mixture of Lucas Girling Skidchek and ASC Maxaret equipment for both tractive units and semi-trailers.
In the course of updating the fleet specification for 38 tonne operation, Esso introduced 30 new tractive units and 102 semi-trailers into service this year.
Nearly all of the semitrailers are equipped with Skidchek MGX and half of the tractive units have Skidclick GX equipment.
"Our drivers take anti-lock for granted and they no longer suffer with brake-induced trailer swing or jackknifing," states Esso's manager of transport and engineering, Graham Holiday.
The company has dispensed with load-sensing valves and is experiencing a better braking balance between tractive unit and trailer in all load conditions with a marked improvement in lining wear.
Esso's next step is to have three pilot vehicles fitted with the Lucas Girling system on the front axle which will be monitored in use to assess the real safety value of the extra investment.