Disc brakes for Ford Cargo middleweights
30th November 1985
Page 20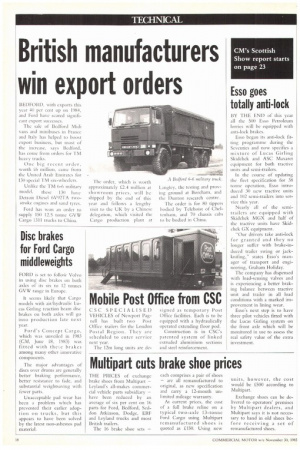 Page 20, 30th November 1985 —
Disc brakes for Ford Cargo middleweights
Close
FORD is set to ro11oW Volvo in using disc brakes on both axles of its six to 12 tonnes GVW range in Europe.
It seems likely that Cargo models with air/hydraulic Lucas Girling reaction beam disc brakes on both axles will go into production late next year.
Ford's Concept Cargo, which was unveiled in 1983 (CM, June 18, 1983) was fitted with thee brakes among many other innovative components.
The major advantages of discs over drums are generally better braking performance, better resistance to fade, and substantial weightsaving with fewer parts.
Unacceptable pad wear has been a problem which has prevented their earlier adoption on trucks, but this appears to have been solved by the latest non-asbestos pad material.