Turbo VWs for 1986
30th November 1985
Page 17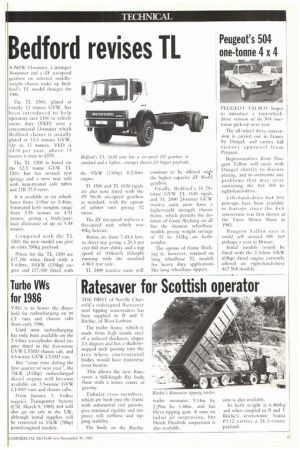 Page 17, 30th November 1985 —
Turbo VWs for 1986
Close
VAC, is to lower the threshold for turbocharging on its LT vans and chassis cabs from early 1986.
Until now turbocharging has only been available on the 2.4-litre six-cylinder diesel engine fitted in the five-tonne GVW LT5OD chassis cab, arid 4.6-tonne GVW LT45D van.
But "some time during the first quarter of next year", the 75kW (102hp) turbocharged diesel engine will become available on 3.5-tonne GVW LT4OD vans and chassis cabs.
From January 1, Volkswagen's Transporter Syncro (CM, March 9, 1985) 4x4 will also go on sale in the UK, although initial supplies will be restricted to 57kW (78hp) petrol-engined models.
the 97kW (130hp) 8.2-litre engine.
TL 1500 and TL 1630 rigids are also now fitted with die ZE S6-36 six-speed gearbox as standard, with the option of splitter unit giving 12 ratios.
The ZF six-speed replaces a five-speed unit which was 40kg heavier.
Ratios are from 7.43:1 low, to direct top giving a 20.5 per cent hill start ability and a top speed of 100km/h (62mph) running with the standard 4.86:1 rear axle.
TL 2400 tractive units will continue to be offered with the higher capacity ZF S6-65 gearbox.
Finally, Bedford's 16.25tonne GVW TL 1630 rigids and IL 2400 24-tonne GCW tractive units now have a higher-yield strength chassis frame, which permits the deletion of frame flitching on all hut the shortest wheelbase models giving weight savings of 92 to 142kg on kerbweights.
The option of frame flitching is, however, retained on long wheelbase TL models for heavy duty applications like long wheelbase tippers.