Peugeot's 504 one-tonne 4 x
30th November 1985
Page 17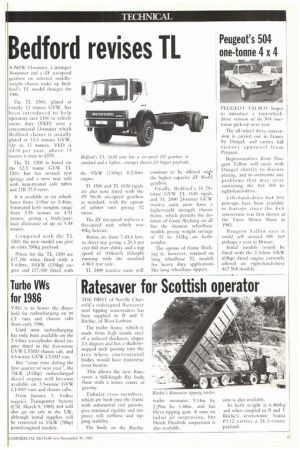 Page 17, 30th November 1985 —
Peugeot's 504 one-tonne 4 x
Close
PEUGEOT "FALBOT hopes to introduce a four-wheeldrive version of its 504 onetonne pick-up next year.
The all-wheel drive conversion is carried out in France by Dangel, and carries full factory approval from Peugeot.
Representatives from Peugeot Talbot will meet with Dangel shortly to discuss pricing, and to overcome any problems that may arise converting the 4x4 504 to right-hand-drive.
Left-hand-drive 4x4 504 pick-ups have been available in Europe since the 4x4 conversion was first shown at the Turin Motor Show in 1983.
Peugeot Talbot says it could sell around 500 4x4 pickups a year in Britain.
Initial models would be fitted with the 2.3-litre 51kW (69hp) diesel engine currently offered on right-hand-drive 4x2 504 models.