Bedford revises II
30th November 1985
Page 17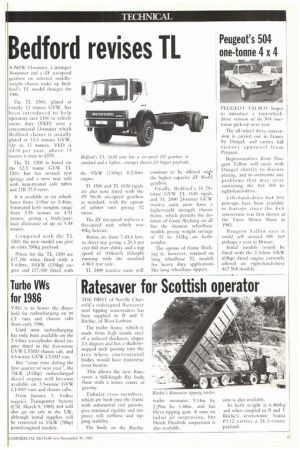 Page 17, 30th November 1985 —
Bedford revises II
Close
A NEW 13-tormer, -a stronger 16-tonner and a ZF six-speed gearbox on selected middleweight chassis make up Bedford's TL model changes for 1086,
The TL 1300, plated at exactly 13 tonnes GVW, has been introduced to help operators save £160 in vehicle excise duty (VET)) over a conventional 13-tormer which Bedford claims is usually plated at 13.5 tonnes GVW. Up to 13 tonnes, VED is A:4111 per year, above 13 tonnes it rises to 3:570.
The TL 1300 is based on the 115 tonne GVW TL 1260, but has revised rear springs and a new rear axle with heat-treated axle tubes and 11R 22.5 tyres.
It is available in six wheelbases from 3.05m to 5.46m. Estimated kerb weights range from 3.55 tonnes to 4.41 tonnes, giving a body/payload allowance of up to 9.44 tonnes.
Compared with the TL 1260, the new model can give an extra 350kg payload.
Prices for the TL 1300 are £17,180 when fitted with a 5.4-litre, 101kW (135hp) engine and £17,450 fitted with