MEPs unhappy with liberalisation plans
30th November 1985
Page 16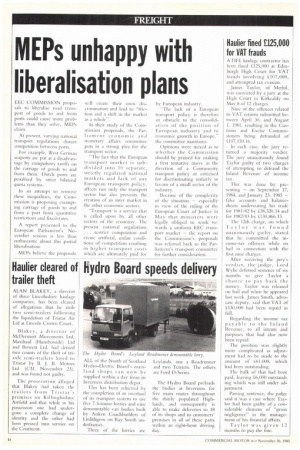 Page 16, 30th November 1985 —
MEPs unhappy with liberalisation plans
Close
EEC COMMISSION proposals to liberalise road transport of goods to and from ports could cause more problems than they solve. MEN claim.
At present, varying national transport regulations distort competition between ports.
For example, West German seaports are put at a disadvantage by compulsory tariffs on the carriage of goods to and from them. Dutch ports are penalised by strict bilateral quota systems.
In an attempt to remove these inequalities, the Commission is proposing exempting carriage of goods to and from a port from quantitive restrictions and fixed-rates.
A report presented to the European Parliament's November session is less than enthusiastic about this partial liberalisation.
MEPs believe the proposals will create their own discrimination and lead to "friction and a shift in the market as a whole".
In their study of the Commission proposals, the Parliament economic and monetary affairs committee puts in a strong plea for the transport sector.
"The fact that the European transport market is subdivided into 10 separate, strictly regulated national markets and lack of any European transport policy. affects not only the transport sector but also prevents the creation of an inter market in the other economic sectors.
"Transport is a service that is called upon by all other sectors of the economy. The present national regulations . restrict competition and create artificial, unfair conditions of competition resulting in higher transport costs which are ultimately paid for by European industry.