Haulier fined £125,000 for VAT frauds
30th November 1985
Page 16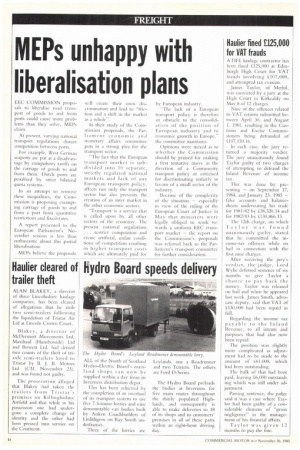 Page 16, 30th November 1985 —
Haulier fined £125,000 for VAT frauds
Close
A HEE haulage contractor has been fined 5125,000 at Edinburgh High Court for VAT frauds involving £107,000, and attempted tax evasion.
James Taylor, of Methil, was convicted by a jury at the High Court in Kirkcaldy on May 8 of 12 charges.
Nine of the offences related to VAT returns submitted be tween April 30, and August 1, 1981, resulting in the Customs and Excise Commissioners being defrauded of £107,150.16.
In each case, the jury returned a majority verdict.
The jury unanimously found Taylor guilty of two charges of attempting to defraud the Inland Revenue of income tax.
This was done by presenting — on September 17, 1984, and January 23, 1985 — false accounts and balancesheets understating his trade for 1981/82 by 08,320.14 and for 1982/83 by £130,866.13.
The 12th charge, on which Taylor was found unanimously guilty, stated that he committed the income-tax offences while on bail in connection with the first nine charges.
After receiving the jury's verdict, the judge, Lord Wylie deferred sentence of six months to give Taylor a chance to pay hack the money. Taylor was released on bail and when he appeared last week, James Smith, advo cate deputy. said that VAT of 030,000 had been repaid in full.
Regarding the income tax payable to the Inland Revenue, to all intents and purposes that had also now been repaid.
The position was slightly more complicated as adjust ment had to be made to the amount of £61,000, which had been outstanding.
The bulk of that had been paid, leaving £6,000 outstanding which was still under adjustment.
Passing sentence, the judge said it was a case where Tay lor had been guilty of a considerable element of "gross negligence" in the management of his financial affairs.
Taylor was given 12 months to pay the fine.