Objections are beaten
30th November 1985
Page 15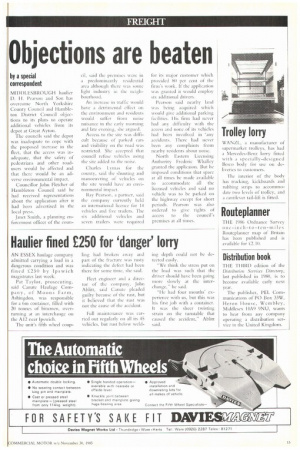 Page 15, 30th November 1985 —
Objections are beaten
Close
by a special correspondent
MIDDLESBROUGH haulier D. H. Pearson and Son has overcome North Yorkshire County Council and Hambleton District Council objections to its plans to operate additional vehicles from its depot at Great Ayton.
The councils said the depot was inadequate to cope with the proposed increase in the fleet, that the access was inadequate, that the safety of pedestrians and other roadusers would be affected and that there would be an adverse environmental impact.
Councillor John Fletcher of Hambleton Council said he had received representations about the application after it had been advertised in the local press.
Janet Smith, a planning enforcement officer of the coun
cil, said the premises were in a predominantly residential area although there was some light industry in the neighbourhood.
An increase in traffic would have a detrimental effect on the environment and residents would soffs.,r from noise nuisance in the early morning and late evening, she argued.
Access to the site was difficult because of parked cars and visibility on the road was restricted. She accepted that council refuse vehicles using the site added to the noise.
Charles Lynn's for the county, said the shunting and manoeuvring of vehicles on the site would have an environmental inipact.
Ray Pearson, a partner, said the company currently held an international licence for 14 vehicles and five trailers. The six additional vehicles and seven trailers were required for its major customer which provided 80 per cent of the firm's work. lIthe application was granted it would employ six additional drivers.
Pearson said nearby land was being acquired which would give additional parking facilities. I us firm had never had any difficulty with the access and none.of its vehicles had been involved in 'any accidents. 'Mere had never been any complanits from nearby residents about noise.
North Eastern Licensing Authority Frederic Whalley granted the applicaion. But he imposi.sd conditions that space at all times be made available to accommodate all the licensed vehicles and said no vehicle was to be parked on the highway except or short periods. Pearson was also ordered to give rights of access to the council's premises at all times.