Haulier fined £250 for 'danger' lorry
30th November 1985
Page 15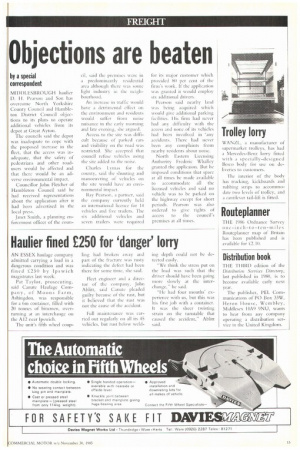 Page 15, 30th November 1985 —
Haulier fined £250 for 'danger' lorry
Close
AN ESSEX haulage company admitted carrying a load in a dangerous condition and was fined 1:250 by Ipswich magistrates last week.
Pat Taylor, prosecuting, said Canute Haulage Comp a ny, of Moons Farm, Ashingdon, was responsible for a 6m container, tilled with 20 tonnes of bitumen, overturning at an interchange on the Al2 near Ipswich.
The unit's fifth wheel coup ling had broken away and part of the fracture was rusty indicating the defect had been there for sonic time, she said.
Fleet engineer and a director of the company, John Ablitt, said Canute pleaded guilty because of the rust, but it believed that die rust was not the cause of the accident.
Full maintenance was carried out regularly on all its 45 vehicles, but rust below weld ing depth could not be detected easily.
"We think the stress put on the load was such that the driver should have been going more slowly at the interchange," he said.
'He had four months experience with us, but this was his first job with a container. It was the sheer twisting strain on the turntable that caused the accident," Ablitt said.