Flying ice hazard on port lorries
30th November 1985
Page 14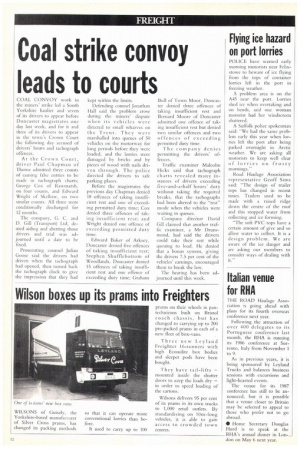 Page 14, 30th November 1985 —
Flying ice hazard on port lorries
Close
POLICE have warned early morning motorists near Felixstowe to beware of ice flying from the tops of container lorries left in the port in freezing weather.
A problem area is on the A45 near the port. Lorries shed ice when overtaking and on bends, and one woman motorist had her windscreen shattered.
A Suffolk police spokesman said: "We had the same problem early this year when lorries left the port after being parked overnight in Arctic weather. We are asking all motorists to keep well clear of lorries on frosty mornings."
Road Haulage Association representative Geoff Sims said: "The design of trailer tops has changed in recent times. Trailers used to be made with a raised ridge down the centre of the roof and this stopped water from collecting and ice forming.
"The soft PVC tops have a certain amount of give and so allow water to collect. It is a design problem. We are aware of the ice danger and are asking our members to consider ways of dealing with it."