Coal strike convoy leads to courts
30th November 1985
Page 14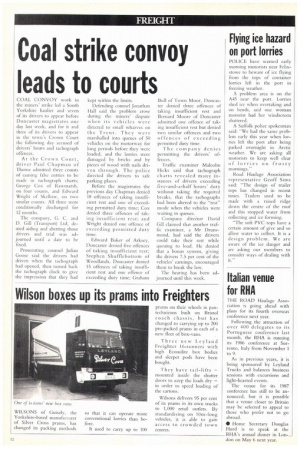 Page 14, 30th November 1985 —
Coal strike convoy leads to courts
Close
COAL CONVOY work in the miners' strike led a South Yorkshire haulier and • seven of its drivers to appear before Doncaster magistrates one day last week, and for it and three of its drivers to appear in the town's Crown Court the following day accused of drivers' hours and tachograph offences.
At the Crown Court, driver Paul Chapman of Thorne admitted three counts of causing false entries to be made in tachograph charts; George Cox of Rawmarsh, on four counts, and Edward Wright of Skellow, on two similar counts. All three were conditionally discharged for 12 months.
The company, G. C. and D. Gill (Transport) Ltd, denied aiding and abetting those drivers and trial was adjourned until a date to be fixed.
Prosecuting counsel Julian Goose said the drivers had driven when the tachograph had opened, then turned back the tachograph clock to give the impression that they had kept within the limits.
Defending counsel Jonathan Hall said the problem arose during the miners' dispute when its vehicles were directed to small wharves on the Trent. They were marshalled into queues of 50 vehicles on the motorway for long periods before they were loaded, and the lorries were damaged by bricks and by pieces of wood with nails driven through. The police directed the drivers to safe parking places.
Before the magistrates the previous day Chapman denied 18 offences of taking insufficient rest and one of exceeding permitted duty time; Cox denied three offences of taking insufficient rest; and Wright denied one offence of exceeding permitted duty time.
Edward Baker of Arkscy, Doncaster denied five offences of taking insufficient rest; Stephen Shufflebottorn of Woodlands, Doncaster denied 15 offences of taking insufficient rest and one offence of exceeding duty time; Graham Bull of Town Moor, Doncaster denied three offences of taking insufficient rest and Bernard Moore of Doncaster admitted one offence of taking insufficient rest but denied two similar offences and two offences of exceeding permitted duty time.
The company denies permitting the drivers' offences.
Traffic examiner Malcolm I licks said that tachograph charts revealed many instances of drivers exceeding five-and-a-half hours' duty without taking the required breaks, that the tachographs had been altered to the "rest" mode when the vehicles were waiting in queues.
Company direcl-tor David Gill claimed that another traffic examiner, a Mr Drummond, had said the drivers could take their rest while queuing to load. He denied that a bonus system, giving the drivers 7.5 per cent of the vehicles' earnings, encouraged them to break the law.
The hearing has been adjourned until this week.