A Good Feed Bali the Rattle. Out and Home. —"The
30th November 1916
Page 13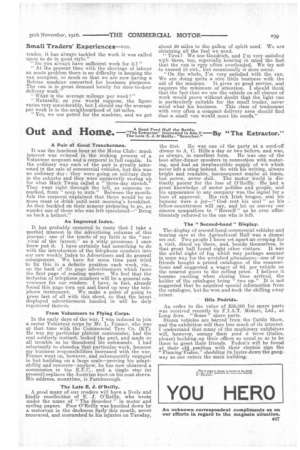 Page 13, 30th November 1916 —
A Good Feed Bali the Rattle. Out and Home. —"The
Close
Keywords :
Extractor' ' Interested in Ads. I! --By The Late E. J. 0' Reilly—"Seoreher." "The Extractor" A Pair of Good Trenchermen; It was the luncheon hour at the Motor Club : much interest was evinced in the stoking process of a Volunteer sergeant and a, corpora/ in full regalia. In the ordinary way each of the pair is greatly interested in the sale of commercial vehicles, but this was no ordinary day : they were going on military duty in the suburbs and they were apparently storing up for what Mark Twain called a "three-day stretch. They went right through the bill, as someone remarked, from soup to nuts." Between the mouthfuls the corporal explained that there would be no more meat or drink until next morning's breakfast. As they buckled on their armour preparing to go, no wonder one of those who was left ejaculated—" Bring us back a helmet."
An Improved Index.
It has probably occurred to many that I take a morbid interest in the advertising columns of this journal: one of the tenets of my faith is the "survival of the fattest," as a witty pressman I once knewput it. I have certainly had something to do with the introduction of the telephone numbers into our new weekly Index to Advertisers and its general enlargement. We have for some time past tried to fix this in a definite position each week, viz., on the back of the page advertisement which faces the first page of reading matter. We feel that the inclusion of telephone numbers will be a general convenience for our readers. I have, in fact, already found this page torn out and fixed up near the telephone instrument. We make a point of going to press last of all with this sheet, so that the latest displayed advertisement handed in will be duly registered therein.
From Volunteers to Flying Corps.
In the early days of the war, I was induced to join a motor Volunteer corps by Mr. L. Fenner, who was at that time with the Commercial Tyre Co. (KT). He was my particular platoon commander, had the real soldierly instinct, looked. the part, and made us all tremble as he thundered his commands. I had reluctantly to abandon that particular work, because my business responsibilities increased with the war. Fenner went on, however, and subsequently engaged in lint building on a large scale—proving his adaptability and resource—anyhow, he has now obtained a commission in the R.F.C., and a single star (at present) replaces the Austrian knot on his coat sleeve. His address, meantime, is Farnborough.
The Late E. J. ceReilly.
A good many of our readers will have a lively and kindly recollection of E. I. O'Reilly, who wrote under the name of " The Scorcher" in motor and cycling papers. Poor O'Reilly was knocked down by a inotorvan in the darkness early this month, never recovered, and succumbed to his injuries on Tuesday, the 21st. He was one of the party at a send-off dinner to A. a Hills a, day or two before, and was, as always, in excellent form. He was one of the best after-dinner speakers in connection with motoring, and had an inexhaustible supply of wit which never left a, sting behind. So with his writing, always bright and readable, inconsequent maybe at times, but never, never dull. The motor world is distinctly poorer for the loss of O'Reilly. He had, a great knowledge of motor politics and people, and his appearance in any company was the signal for a hum of approval. His rich Irish brogue, and his humour were a joy—" God rest his soul" as his fellow-countrymen will say, and let us convey our sincere sympathies to " Herself " as he ever affectionately referred to the one who is left.
The "Second-hand" Display.
The display of second-hand commercial vehicles and touring cars at the Agricultural Hall was a dismal set out. Two people I knovs set apartan evening for a, visit, dined up there, and, beside themselves, in that great hall found eight other visitors. It was the awful night of fog which may perhaps account in some way for the wretched attendance—one of my friends bought a. priced catalogue of the resurrections and suggested a wager of 6d. per vehicle on the nearest guess to the selling price. I believe it became exciting when closing time arrived, the holder of the catalogue being two up." It is not suggested that be acquired special information from the catalogue, but he won.and took the shilling away intact.
' 011a Podrida.
An order to the value of £35,000 for spare parts was received recently by F.I.A.T. Motors, Ltd., at Long Acre. "Some " spare parts.
Steam vehicles are barred 'from the Cattle Show, and the exhibition will thus lose much of its interest. I understand that many of the machinery exhibitors will, however, occupy their pied ci terre (italics, please) building:up their offices as usual so as to be there to greet their friends. Foclen's will be found at their olds_position with their electric sign the " Flaming'Foden," ishedding its lustre down the gangway as one enters the main building.