Don't use illicit fuel, says HMRC By Robin Meczes HMRC
30th May 2013
Page 9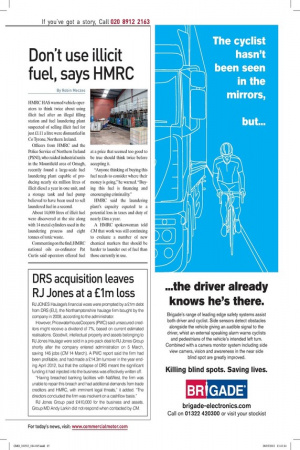 Page 9, 30th May 2013 —
Don't use illicit fuel, says HMRC By Robin Meczes HMRC
Close
HAS warned vehicle operators to think twice about using illicit fuel after an illegal filling station and fuel laundering plant suspected of selling illicit fuel for just £1.11 a litre were dismantled in Co Tyrone, Northern Ireland.
Officers from HMRC and the Police Service of Northern Ireland (PSNI), who raided industrial units in the Mountfield area of Omagh, recently found a large-scale fuel laundering plant capable of producing nearly six million litres of illicit diesel a year in one unit, and a storage tank and fuel pump believed to have been used to sell laundered fuel in a second.
About 14,000 litres of illicit fuel were discovered at the site along with 14 metal cylinders used in the laundering process and eight tonnes of toxic waste.
Commenting on the find, HMRC national oils co-ordinator Pat Curtis said operators offered fuel at a price that seemed too good to be true should think twice before accepting it.
"Anyone thinking of buying this fuel needs to consider where their money is going," he warned. "Buying this fuel is financing and encouraging criminality."
HMRC said the laundering plant's capacity equated to a potential loss in taxes and duty of nearly £4m a year.
A HMRC spokeswoman told CM that work was still continuing to evaluate a number of new chemical markers that should be harder to launder out of fuel than those currently in use.