FTA backs plans to tackle Dartford congestion issues By Ashleigh
30th May 2013
Page 7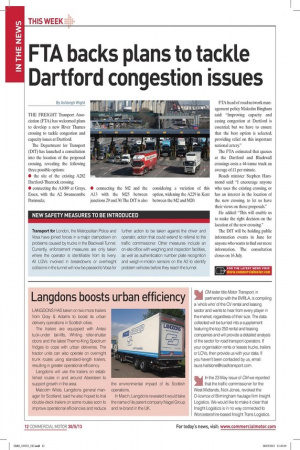 Page 7, 30th May 2013 —
FTA backs plans to tackle Dartford congestion issues By Ashleigh
Close
Wight THE FREIGHT Transport Association (FTA) has welcomed plans to develop a new River Thames crossing to tackle congestion and capacity issues at Dartford.
The Department for Transport (DfT) has launched a consultation into the location of the proposed crossing, revealing the following three possible options: • the site of the existing A282 Dartford-Thurrock crossing; • connecting the A1089 at Grays, Essex, with the A2 Swanscombe Peninsula; FTA head of road network management policy Malcolm Bingham said: "Improving capacity and easing congestion at Dartford is essential; but we have to ensure that the best option is selected, providing relief on this important national artery."
The FTA estimated that queues at the Dartford and Blackwall crossings costs a 44-tonne truck an average of £1 per minute.
Roads minister Stephen Hammond said: "I encourage anyone who uses the existing crossing, or has an interest in the location of the new crossing, to let us have their views on these proposals."
He added: "This will enable us to make the right decision on the location of the new crossing."
The DfT will be holding public information events in June for anyone who wants to find out more information. The consultation closes on 16 July.