Pall-Ex and Hazchem plug interoute gap By Chris Druce PALL-EX
30th May 2013
Page 4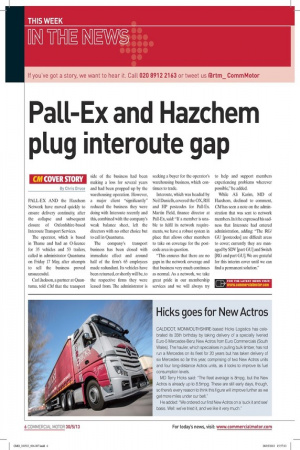 Page 4, 30th May 2013 —
Pall-Ex and Hazchem plug interoute gap By Chris Druce PALL-EX
Close
AND the Hazchem Network have moved quickly to ensure delivery continuity, after the collapse and subsequent closure of Oxfordshire-based Interoute Transport Services.
The operator, which is based in Thame and had an 0-licence for 35 vehicles and 53 trailers, called in administrator Quantuma on Friday 17 May, after attempts to sell the business proved unsuccessful.
Carl Jackson, a partner at Quantuma, told CM that the transport side of the business had been making a loss for several years and had been propped up by the warehousing operation. However, a major client "significantly" reduced the business they were doing with Interoute recently and this, combined with the company's weak balance sheet, left the directors with no other choice but to call in Quantuma.
The company's transport business has been closed with immediate effect and around half of the firm's 65 employees made redundant. Its vehicles have been returned, or shortly will be, to the respective firms they were leased from. The administrator is seeking a buyer for the operator's warehousing business, which continues to trade.
Interoute, which was headed by Neil Daniels, covered the OX, RH and HP postcodes for Pall-Ex. Martin Field, finance director at Pall-Ex, said: "If a member is unable to fulfil its network requirements, we have a robust system in place that allows other members to take on coverage for the postcode area in question.
"This ensures that there are no gaps in the network coverage and that business very much continues as normal. As a network, we take great pride in our membership services and we will always try to help and support members experiencing problems wherever possible," he added.
While Ali Karim, MD of Hazchem, declined to comment, CM has seen a note on the adminstration that was sent to network members. In it he expressed his sadness that Interoute had entered administration, adding: "The RG/ GU [postcodes] are difficult areas to cover; currently they are managed by SDV [part GU] and Switch [RG and part GU]. We are grateful for this interim cover until we can find a permanent solution."