Hicks goes for New Actros CALDICOT, MONMOUTHSHIRE-based Hicks Logistics has
30th May 2013
Page 4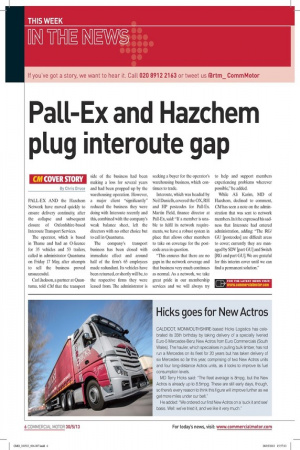 Page 4, 30th May 2013 —
Hicks goes for New Actros CALDICOT, MONMOUTHSHIRE-based Hicks Logistics has
Close
celebrated its 35th birthday by taking delivery of a specially livened Euro-5 Mercedes-Benz New Actros from Euro Commercials (South Wales). The haulier, which specialises in pulling bulk timber, has not run a Mercedes on its fleet for 20 years but has taken delivery of six Mercedes so far this year, comprising of two New Actros units and four long-distance Actros units, as it looks to improve its fuel consumption levels.
MD Terry Hicks said: "The fleet average is 8mpg, but the New Actros is already up to 8.5mpg. These are still early days, though, so there's every reason to think this figure will improve further as we get more miles under our belt."
He added: "We ordered our f irst New Actros on a 'suck it and see' basis. Well: we've tried it, and we like it very much."