Industry pays tribute to dealership founder Words: Chris Druce Friends,
30th May 2013
Page 37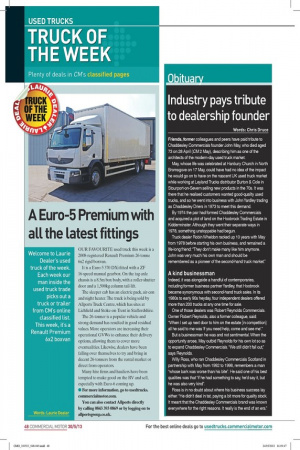 Page 37, 30th May 2013 —
Industry pays tribute to dealership founder Words: Chris Druce Friends,
Close
former colleagues and peers have paid tribute to Chaddesley Commercials founder John May, who died aged 73 on 28 April (CM 2 May), describing him as one of the architects of the modern-day used truck market.
May, whose life was celebrated at Hanbury Church in North Bromsgove on 17 May, could have had no idea of the impact he would go on to have on the nascent UK used truck market while working at Leyland Trucks distributor Burton & Cole in Stourport-on-Severn selling new products in the 70s. It was there that he realised customers wanted good-quality used trucks, and so he went into business with John Yardley trading as Chaddesley Driers in 1973 to meet this demand.
By 1974 the pair had formed Chaddesley Commercials and acquired a plot of land on the Hoobrook Trading Estate in Kidderminster. Although they went their separate ways in 1978, something unstoppable had begun.
Truck dealer Robin Wheldon racked up 10 years with May from 1978 before starting his own business, and remained a life-long friend: "They don't make many like him anymore. John was very much his own man and should be remembered as a pioneer of the second-hand truck market': A kind businessman Indeed, it was alongside a handful of contemporaries, including former business partnerYardley, that Hoobrook became synonymous with second-hand truck sales. In its 1980s to early 90s heyday, four independent dealers offered more than 200 trucks at any one time for sale.
One of those dealers was Robert Reynolds Commercials. Owner Robert Reynolds, also a former colleague, said: 'When I set up next door to him on the estate [in competition] all he said to me was 'if you need help, come and see me'' But a businessman he was and not sentimental. When the opportunity arose, May outbid Reynolds for his own lot so as to expand Chaddesley Commercials. "We still didn't fall out;' says Reynolds.
Willy Ross, who ran Chaddesley Commercials Scotland in partnership with May from 1992 to 1998, remembers a man "whose bark was worse than his bite". He said one of his best qualities was that "if he had something to say, he'd say it, but he was also very kind".
Ross is in no doubt about where his business success lay either. "He didn't deal in tat, paying a bit more for quality stock. It meant that the Chaddesley Commercials brand was known everywhere for the right reasons. It really is the end of an era':