Get your company name on a board game By Laura
30th May 2013
Page 35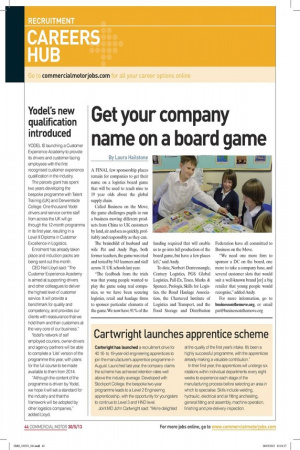 Page 35, 30th May 2013 —
Get your company name on a board game By Laura
Close
Hai157,1./1 IC A FINAL few sponsorship places remain for companies to get their name on a logistics board game that will be used to teach nine to 19 year olds about the global supply chain.
Called Business on the Move, the game challenges pupils to run a business moving different products from China to UK customers by land, air and sea as quickly, profitably and responsibly as they can.
The brainchild of husband and wife Pat and Andy Page, both former teachers, the game was tried and tested by 543 learners and staff across 31 UK schools last year.
"The feedback from the trials was that young people wanted to play the game using real companies, so we have been securing logistics, retail and haulage firms to sponsor particular elements of the game.We now have 91% of the funding required that will enable us to go into full production of the board game, but have a few places left," said Andy.
To date, Norbert Dentressangle, Century Logistics, PGS Global Logistics, Pall-Ex, Tesco, Marks & Spencer, Prologis, Skills for Logistics, the Road Haulage Association, the Chartered Institute of Logistics and Transport, and the Food Storage and Distribution Federation have all committed to Business on the Move.
"We need one more firm to sponsor a DC on the board, one more to take a company base, and several customer slots that would suit a well-known brand [or] a big retailer that young people would recognise," added Andy.
For more information, go to businessonthemove.org, or email pat@businessonthemove.org