king your w.rkshop pay Could turning your workshop into an
30th May 2013
Page 31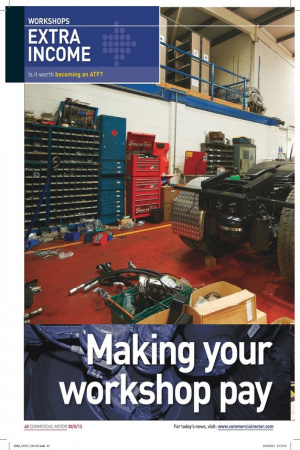 Page 32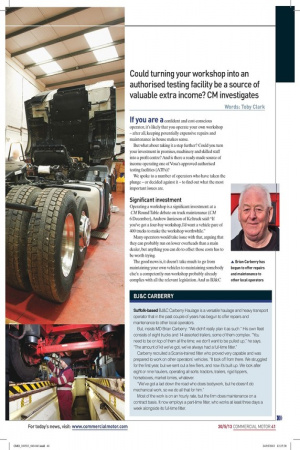 Page 33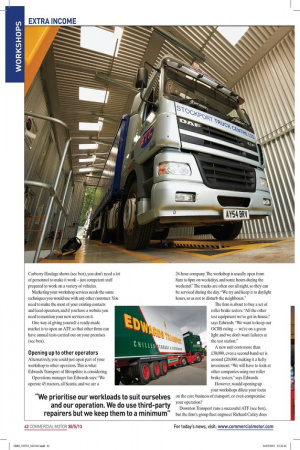 Page 34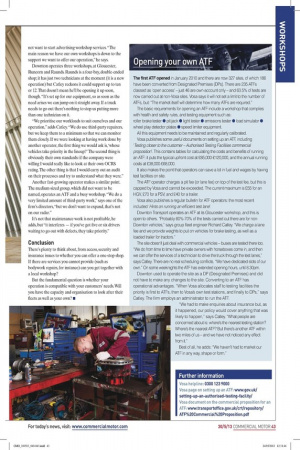 Page 31, 30th May 2013 —
king your w.rkshop pay Could turning your workshop into an
Close
authorised testing facility be a source of valuable extra income? CM investigates Words: Toby Clark Ifyou are a confident and cost-conscious operator, it's likely that you operate your own workshop — after all, keeping potentially expensive repairs and maintenance in-house makes sense.
But what about taking it a step further? Could you turn your investment in premises, machinery and skilled staff into a profit centre? And is there a ready-made source of income operating one of Vosa's approved authorised testing facilities (ATFs)?
We spoke to a number of operators who have taken the plunge — or decided against it — to find out what the most important issues are.
Significant investment Operating a workshop is a significant investment: at a CM Round Table debate on truck maintenance (CM 6 December), Andrew Jamieson of Keltruck said: "If you've got a four-bay workshop, I'd want a vehicle parc of 400 trucks to make the workshop worthwhile."
Many operators would take issue with that, arguing that they can probably run on lower overheads than a main dealer, but anything you can do to offset those costs has to be worth trying.
The good news is, it doesn't take much to go from maintaining your own vehicles to maintaining somebody else's: a competently-run workshop probably already complies with all the relevant legislation. And as BJ&C Carberry Haulage shows (see box), you don't need a lot of personnel to make it work — just competent staff prepared to work on a variety of vehicles.
Marketing your workshop services needs the same techniques you would use with any other customer. You need to make the most of your existing contacts and local operators, and if you have a website you need to mention your new services on it.
One way of giving yourself a ready-made market is to open an ATF, so that other firms can have annual tests carried out on your premises (see box).
Opening up to other operators Alternatively, you could just open part of your workshop to other operators. This is what Edwards Transport of Shropshire is considering.
Operations manager Ian Edwards says: "We operate 45 tractors, all Scania, and we are a 24-hour company. The workshop is usually open from 8am to 6pm on weekdays, and some hours during the weekend." The trucks are often out all night, so they can be serviced during the day. "We try and keep it to daylight hours, so as not to disturb the neighbours."
The firm is about to buy a set of roller brake testers. "All the other test equipment we've got in-house," says Edwards. "We want to keep our OCRS rating — we're on a green light and we don't want failures at the test station."
A new unit costs more than £30,000, even a second-hand set is around £20,000, making it a hefty investment. "We will have to look at other companies using our roller brake testers," says Edwards.
Downton Transport runs a successful ATF (see box), but the firm's group fleet engineer Richard Catley does not want to start advertising workshop services. "The main reason we have our own workshops is down to the support we want to offer our operation," he says.
Downton operates three workshops, at Gloucester, Runcorn and Raunds. Raunds is a four-bay, double-ended shop; it has just two technicians at the moment (it is a new operation) but Catley reckons it could support up to ten or 12. That doesn't mean he'll be opening it up soon, though. "It's set up for our equipment, so as soon as the need arises we can jump on it straight away. If a truck needs to go out there's nothing to stop us putting more than one technician on it.
"We prioritise our workloads to suit ourselves and our operation," adds Catley. "We do use third-party repairers, but we keep them to a minimum so that we can monitor them closely. If we were looking at having work done by another operator, the first thing we would ask is, 'whose vehicles take priority in the lineup?' The second thing is obviously their own standards: if the company were willing I would really like to look at their own OCRS rating. The other thing is that I would carry out an audit on their processes and try to understand what they were."
Another fast-growing operator makes a similar point. The medium-sized group, which did not want to be named, operates an ATF and a busy workshop. "We do a very limited amount of third-party work," says one of the firm's directors, "but we don't want to expand, that's not on our radar."
It's not that maintenance work is not profitable, he adds, but "it interferes — if you've got five or six drivers waiting to go out with defects, they take priority."
Conclusion There's plenty to think about, from access, security and insurance issues to whether you can offer a one-stop shop. If there are services you cannot provide (such as bodywork repairs, for instance) can you get together with a local workshop?
But the fundamental question is whether your operation is compatible with your customers' needs. Will you have the capacity and organisation to look after their fleets as well as your own? • Suffolk-based BJ&C Carberry Haulage is a versatile haulage and heavy transport operator that in the past couple of years has begun to offer repairs and maintenance to other local operators.
But, insists MD Brian Carberry: "We didn't really plan it as such." His own fleet consists of eight trucks and 14 assorted trailers, some of them complex. "You need to be on top of them all the time; we don't want to be pulled up," he says. "The amount of kit we've got, we've always had a full-time fitter."
Carberry recruited a Scania-trained fitter who proved very capable and was prepared to work on other operators' vehicles. "It took off from there. We struggled for the first year, but we sent out a few fliers, and now it's built up. We look after eight or nine hauliers, operating all sorts: tractors, trailers, rigid tippers, horseboxes, market lorries, whatever.
"We've got a lad down the road who does bodywork, but he doesn't do mechanical work, so we do all that for him."
Most of the work is on an hourly rate, but the firm does maintenance on a contract basis. It now employs a part-time fitter, who works at least three days a week alongside its full-time fitter. Opening your own ATF .
The first ATF opened in January 2010 and there are now 327 sites, of which 186 have been converted from Designated Premises (DPs). There are 235 ATFs classed as 'open access' — just 46 are own-account only — and 63.5% of tests are now carried out at non-Vosa sites. Vosa says it will not set a limit to the number of ATFs, but: "The market itself will determine how many ATFs are required."
The basic requirements for opening an ATF include a workshop that complies with health and safety rules, and testing equipment such as: roller brake tester • pit jack • light tester • emissions tester • load simulator • wheel play detector plates • speed limiter equipment.
All this equipment needs to be maintained and regularly calibrated.
Vosa publishes some useful documents on setting up an ATE including 'Testing closer to the customer—Authorised Testing Facilities commercial proposition'. This contains tables for calculating the costs and benefits of running an ATF: it puts the typical upfront cost at £85,000-£120,000, and the annual running costs at £38,000-£68,000.
It also makes the point that operators can save a lot in fuel and wages by having test facilities on site.
The ATF operator charges a pit fee (or lane fee) on top of the test fee, but this is capped by Vosa and cannot be exceeded. The current maximum is £55 for an HGV, £70 for a PSV, and £40 for a trailer.
Vosa also publishes a regular bulletin for ATF operators: the most recent included 'Hints on running an efficient test lane'.
Downton Transport operates an ATF at its Gloucester workshop, and this is open to others. "Probably 60%-70% of the tests carried out there are for nonDownton vehicles," says group fleet engineer Richard Catley. "We charge a lane fee and we provide weights to put on vehicles for brake testing, as well as a loaded trailer for tractors."
The site doesn't just deal with commercial vehicles— buses are tested there too. "We do from time to time have private owners with horseboxes come in, and then we can offer the services of a technician to drive the truck through the test lanes," says Catley. There are no real scheduling conflicts. "We have dedicated slots of our own." On some weeknights the ATF has extended opening hours, until 8.30pm.
Downton used to operate the site as a DP (Designated Premises) and did not have to make any changes to the site. Converting to an ATF has operational advantages. "When Vosa allocates staff to testing facilities the priority is first to ATFs, then to Vosa's own test stations, and finally to DPs," says Catley. The firm employs an administrator to run the ATF.
"We had to make enquiries about insurance but, as it happened, our policy would cover anything that was likely to happen," says Catley. "What people are concerned about is: where's the nearest testing station? Where's the nearest ATF? But there's another ATF within two miles of us — and we have not noticed any effect from it."
Best of all, he adds: "We haven't had to market our ATF in any way, shape or form."
Further information 1 Vosa helpline: 0300 123 9000 Vosa page on setting up an AV" www.gov.uk/ setting-up-an-authorised-testing-facility/ Vosa document on the commercial proposition for an ATF: www.transportoffice.gov.uk/crt/repository/ ATF°/020Commercial°/020Proposition.pdf