Directions needed Most experts agree that, for the next couple
30th May 2013
Page 2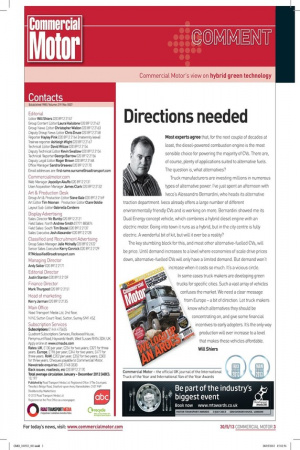 Page 2, 30th May 2013 —
Directions needed Most experts agree that, for the next couple
Close
of decades at Least, the diesel-powered combustion engine is the most sensible choice for powering the majority of CVs. There are, of course, plenty of applications suited to alternative fuels. The question is, what alternatives?
Truck manufacturers are investing millions in numerous types of alternative power. I've just spent an afternoon with Iveco's Alessandro Bernardini, who heads its alternative traction department. Iveco already offers a large number of different environmentally friendly CVs and is working on more. Bernardini showed me its Dual Energy concept vehicle, which combines a hybrid diesel engine with an electric motor. Going into town it runs as a hybrid, but in the city centre is fully electric. A wonderful bit of kit, but will it ever be a reality?
production will ever increase to a level that makes these vehicles affordable.