Getting the price right Get a good deal when you
30th May 2013
Page 17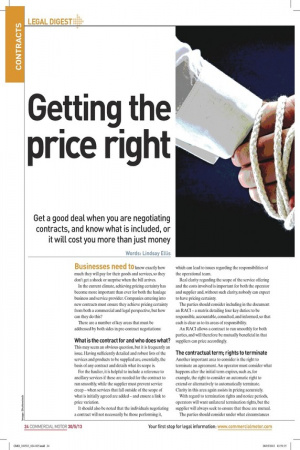 Page 18
Page 17, 30th May 2013 —
Getting the price right Get a good deal when you
Close
are negotiating contracts, and know what is included, or it will cost you more than just money Words: Lindsay Eli: Businesses need to know exactly how much they will pay for their goods and services, so they don't get a shock or surprise when the bill arrives.
In the current climate, achieving pricing certainty has become more important than ever for both the haulage business and service provider. Companies entering into new contracts must ensure they achieve pricing certainty from both a commercial and legal perspective, but how can they do this?
There are a number of key areas that must be addressed by both sides in pre-contract negotiations: What is the contract for and who does what?
This may seem an obvious question, but it is frequently an issue. Having sufficiently detailed and robust lists of the services and products to be supplied are, essentially, the basis of any contract and details what its scope is.
For the haulier, it is helpful to include a reference to ancillary services if these are needed for the contract to run smoothly, while the supplier must prevent service creep — when services that fall outside of the scope of what is initially agreed are added — and ensure a link to price variation.
It should also be noted that the individuals negotiating a contract will not necessarily be those performing it, which can lead to issues regarding the responsibilities of the operational team.
Real clarity regarding the scope of the service offering and the costs involved is important for both the operator and supplier and, without such clarity, nobody can expect to have pricing certainty.
The parties should consider including in the document an RACI — a matrix detailing four key duties: to be responsible, accountable, consulted, and informed, so that each is clear as to its areas of responsibility.
An RACI allows a contract to run smoothly for both parties, and will therefore be mutually beneficial in that suppliers can price accordingly.
The contractual term; rights to terminate Another important area to consider is the right to terminate an agreement. An operator must consider what happens after the initial term expires, such as, for example, the right to consider an automatic right to extend or alternatively to automatically terminate. Clarity in this area again assists in pricing accurately.
With regard to termination rights and notice periods, operators will want unilateral termination rights, but the supplier will always seek to ensure that these are mutual.
The parties should consider under what circumstances termination rights should be triggered — it is standard to provide for termination for insolvency or material breach.
However, consideration should be given to other situations, such as, for example, failure to agree variations that have significant financial impacts, a change of control and closure of the site where services are provided.
Pricing should take into account the consequences of termination. A haulier must seek protection from unbudgeted costs and consider the need for exit assistance, while the supplier should consider the extent, timescales and cost of exit assistance.
This may seem a negative topic to raise in pre-contract discussions, but get this wrong and, after termination, the operator can face significant unbudgeted costs or the supplier can lose a significant proportion of the contractual profit. Exclusivity A decision on whether to seek or grant exclusivity will be dictated by the commercial circumstances at the time. The benefits of exclusivity are stability for both parties and the ability to build contractual relationships long term, which can assist with price certainty.
Operators should benefit by way of pricing in that, in return for exclusivity, they will expect to see suppliers being prepared to reduce rates. Suppliers also have the certainty of not facing a competitive situation for the contractual term.
It should be noted that exclusivity has its downsides: for example, lack of flexibility for both parties, potential for competition infringement and, for the supplier, a negative impact on pricing.
Pricing and variation The parties should consider when and how often pricing should be reviewed/varied and the basis and triggers for variation.
Suppliers might want to link reviews to certain indices — for example, the retail price index — but ideally, a formal change control process should be set out in the contract.
Both operator and supplier should consider the potential knock-on effect of service variation, and where responsibility for costs arising should sit.
If suitable provisions are included and operators seek to force through changes without consent, suppliers might consider whether, commercially, to enforce that clause or instead to accept the position.
With regards to service level agreements, again, clearly defined and objective criteria are critical. However, they must be manageable, otherwise both parties can spend an inordinate amount of time deciding what is, or isn't, compliant. This avoids discrepancy and conflict, as both parties know exactly what they should be doing and again are able to price with certainty.
Both parties can enforce compliance and penalties or bonuses, for example, incorporating service credits and perhaps gain share arrangements.
Certainty on pricing can be reached as a result of a number of factors, each of which can impact on the ability of either the haulier or supplier to achieve the aim of a beneficial contract. Pricing must not be considered in isolation, but instead be the end product of a variety of contractual issues that must be taken into account at the outset of negotiations. • • For more information, contact Lindsay Ellis, partner, or Pete Maguire, associate, in the transport and logistics team at commercial law firm Wright Hassan on 01926 886688, or visit wrighthassall.co.uk TWO SHOULD PLAY THAT GAME It is crucial that both parties understand their obligations and these are set out in a contract. The contract should specify how any issues are to be dealt with and include appropriate protection in the event that systems are not integrated sufficiently (such as in the case of an IT contract, for example).