Protect yourself from fraud With fraudulent claims increasing, operators need
30th May 2013
Page 15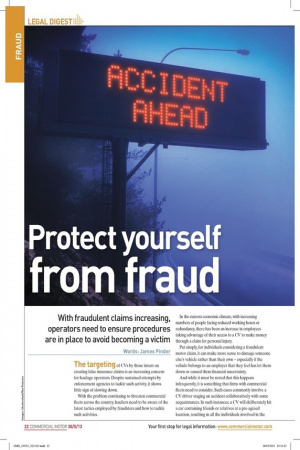 Page 16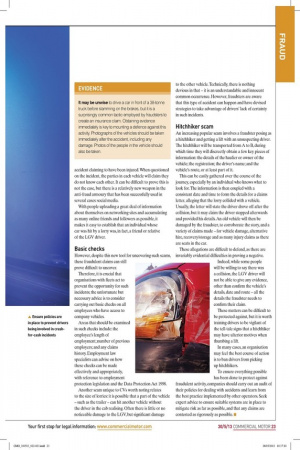 Page 15, 30th May 2013 —
Protect yourself from fraud With fraudulent claims increasing, operators need
Close
to ensure procedures are in place to avoid becoming a victim Words: James Pinder The targeting of CVs by those intent on creating false insurance claims is an increasing concern for haulage operators. Despite sustained attempts by enforcement agencies to tackle such activity, it shows little sign of slowing down.
With the problem continuing to threaten commercial fleets across the country, hauliers need to be aware of the latest tactics employed by fraudsters and how to tackle such activities. In the current economic climate, with increasing numbers of people facing reduced working hours or redundancy, there has been an increase in employees taking advantage of their access to a CV to make money through a claim for personal injury.
Put simply, for individuals considering a fraudulent motor claim, it can make more sense to damage someone else's vehicle rather than their own — especially if the vehicle belongs to an employer that they feel has let them down or caused them financial uncertainty.
And while it must be noted that this happens infrequently, it is something that firms with commercial fleets need to consider. Such cases commonly involve a CV driver staging an accident collaboratively with some acquaintances. In such instances, a CV will deliberately hit a car containing friends or relatives at a pre-agreed location, resulting in all the individuals involved in the accident claiming to have been injured. When questioned on the incident, the parties in each vehicle will claim they do not know each other. It can be difficult to prove this is not the case, but there is a relatively new weapon in the anti-fraud armoury that has been successfully used in several cases: social media.
With people uploading a great deal of information about themselves on networking sites and accumulating as many online friends and followers as possible, it makes it easy to establish that an individual whose car was hit by a lorry was, in fact, a friend or relative of the LGV driver.
Basic checks Therefore, it is crucial that organisations with fleets act to prevent the opportunity for such incidents; the unfortunate but necessary advice is to consider carrying out basic checks on all employees who have access to company vehicles.
Areas that should be examined in such checks include: the employee's length of employment; number of previous employers; and any claims history. Employment law specialists can advise on how these checks can be made effectively and appropriately, with reference to employment protection legislation and the Data Protection Act 1998.
Another scam unique to CVs worth noting relates to the size of lorries: it is possible that a part of the vehicle — such as the trailer — can hit another vehicle without the driver in the cab realising. Often there is little or no noticeable damage to the LGV, but significant damage to the other vehicle. Technically, there is nothing devious in that — it is an understandable and innocent common occurrence. However, fraudsters are aware that this type of accident can happen and have devised strategies to take advantage of drivers' lack of certainty in such incidents.
Hitchhiker scam An increasing popular scam involves a fraudster posing as a hitchhiker and getting a lift with an unsuspecting driver. The hitchhiker will be transported from A to B, during which time they will discreetly obtain a few key pieces of information: the details of the haulier or owner of the vehicle; the registration; the driver's name; and the vehicle's route, or at least part of it.
This can be easily gathered over the course of the journey, especially by an individual who knows what to look for. The information is then coupled with a consistent date and time to form the details for a claims letter, alleging that the lorry collided with a vehicle. Usually, the letter will state the driver drove off after the collision, but it may claim the driver stopped afterwards and provided his details. An old vehicle will then be damaged by the fraudster, to corroborate the story, and a variety of claims made — for vehicle damage, alternative hire, recovery/storage and as many injury claims as there are seats in the car.
These allegations are difficult to defend, as there are invariably evidential difficulties in proving a negative.
Indeed, while some people will be willing to say there was a collision, the LGV driver will not be able to give any evidence, other than confirm the vehicle's details, date and route — all the details the fraudster needs to confirm their claim.
These matters can be difficult to be protected against, but it is worth training drivers to be vigilant of the tell-tale signs that a hitchhiker may have ulterior motives when thumbing a lift.
In many cases, an organisation may feel the best course of action is to ban drivers from picking up hitchhikers To ensure everything possible has been done to protect against fraudulent activity, companies should carry out an audit of their policies for dealing with accidents and learn from the best practice implemented by other operators. Seek expert advice to ensure suitable systems are in place to mitigate risk as far as possible, and that any claims are contested as rigorously as possible. • EVIDENCE It may be unwise to drive a car in front of a 38-tonne truck before slamming on the brakes, but it is a surprisingly common tactic employed by fraudsters to create an insurance claim. Obtaining evidence immediately is key to mounting a defence against this activity. Photographs of the vehicles should be taken immediately after the accident, including any damage. Photos of the people in the vehicle should also be taken.