0-licence lending ends in disqualification A skip haulier has been
30th May 2013
Page 13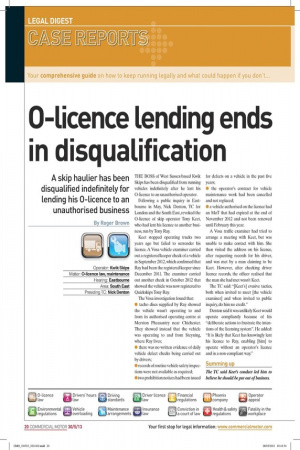 Page 13, 30th May 2013 —
0-licence lending ends in disqualification A skip haulier has been
Close
disqualified indefinitely for lending his 0-licence to an unauthorised business By Roger Brown THE BOSS of West Sussex-based Kwik Skips has been disqualified from running vehicles indefinitely after he lent his 0-licence to an unauthorised operator.
Following a public inquiry in Eastbourne in May, Nick Denton, TC for London and the South East, revoked the 0-licence of skip operator Tony Keet, who had lent his licence to another business, run by Tony Ray.
Keet stopped operating trucks two years ago but failed to surrender his licence. A Vosa vehicle examiner carried out a registered keeper check of a vehicle in September 2012, which confirmed that Ray had been the registered keeper since December 2011. The examiner carried out another check in October 2012 that showed the vehicle was now registered to Quickskips Tony Ray.
The Vosa investigation found that: • tacho discs supplied by Ray showed the vehicle wasn't operating to and from its authorised operating centre at Merston Pheasantry near Chichester. They showed instead that the vehicle was operating to and from Steyning, where Ray lives; • there was no written evidence of daily vehicle defect checks being carried out by drivers; • records of routine vehicle safety inspections were not available as required; • two prohibition notices had been issued for defects on a vehicle in the past five years; • the operator's contract for vehicle maintenance work had been cancelled and not replaced; • a vehicle authorised on the licence had an MoT that had expired at the end of November 2012 and not been renewed until February this year.
A Vosa traffic examiner had tried to arrange a meeting with Keet, but was unable to make contact with him She then visited the address on his licence, after requesting records for his driver, and was met by a man claiming to be Keet. However, after checking driver licence records, the officer realised that the man she had met wasn't Keet.
The TC said: "[Keet's] evasive tactics, both when invited to meet [the vehicle examiner] and when invited to public inquiry, do him no credit."
Denton said it was unlikely Keet would operate compliantly because of his "deliberate actions to frustrate the intentions of the licensing system". He added: "It is likely that Keet has knowingly lent his licence to Ray, enabling [him] to operate without an operator's licence and in a non-compliant way."
Summing up The TC said Keet's conduct led him to believe he should be put out of business.