Two quid pro quo?
30th May 2013
Page 10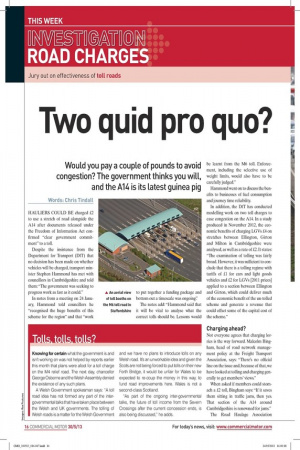 Page 11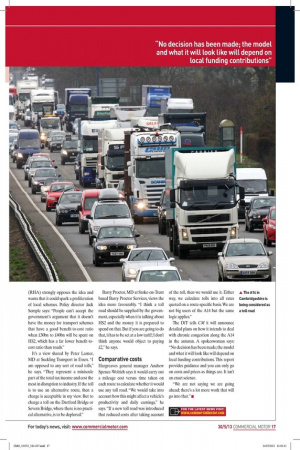 Page 10, 30th May 2013 —
Two quid pro quo?
Close
Would you pay a couple of pounds to avoid congestion? The government thinks you will, and the A14 is its latest guinea pig Words: Chris Tindall HAULIERS COULD BE charged £2 to use a stretch of road alongside the A14 after documents released under the Freedom of Information Act confirmed "clear government commitment" to a toll.
Despite the insistence from the Department for Transport (DfT) that no decision has been made on whether vehicles will be charged, transport minister Stephen Hammond has met with councillors in Cambridgeshire and told them: "The government was seeking to progress work as fast as it could."
In notes from a meeting on 24 January, Hammond told councillors he "recognised the huge benefits of this scheme for the region" and that "work to put together a funding package and bottom out a timescale was ongoing': The notes add: "Hammond said that it will be vital to analyse what the correct tolls should be. Lessons would be learnt from the M6 toll. Enforcement, including the selective use of weight limits, would also have to be carefully judged."
Hammond went on to discuss the benefits to businesses of fuel consumption and journey time reliability.
In addition, the DfT has conducted modelling work on two toll charges to ease congestion on the A14. In a study produced in November 2012, the economic benefits of charging LGVs £4 on stretches between Ellington, Girton and Milton in Cambridgeshire were analysed, as well as a rate of £2. It states: "The examination of tolling was fairly broad. However, it was sufficient to conclude that there is a tolling regime with tariffs of £1 for cars and light goods vehicles and £2 for LGVs [2011 prices] applied to a section between Ellington and Girton, which could deliver much of the economic benefit of the un-tolled scheme and generate a revenue that could offset some of the capital cost of the scheme."
Charging ahead?
Not everyone agrees that charging lorries is the way forward. Malcolm Bingham, head of road network management policy at the Freight Transport Association, says: "There's no official line on the issue and, because of that, we have looked at tolling and charging generally to get members' views."
When asked if members could stomach a £2 toll, Bingham says: "If it saves them sitting in traffic jams, then yes. That section of the A14 around Cambridgeshire is renowned for jams."
The Road Haulage Association (RHA) strongly opposes the idea and warns that it could spark a proliferation of local schemes. Policy director Jack Semple says: "People can't accept the government's argument that it doesn't have the money for transport schemes that have a good benefit-to-cost ratio when £30bn to £40bn will be spent on HS2, which has a far lower benefit-tocost ratio than roads."
It's a view shared by Peter Lamer, MD at Suckling Transport in Essex. "I am opposed to any sort of road tolls," he says. "They represent a miniscule part of the total tax income and cost the most in disruption to industry. If the toll is to use an alternative route, then a charge is acceptable in my view. But to charge a toll on the Dartford Bridge or Severn Bridge, where there is no practical alternative, is to be deplored." Barry Proctor, MD at Stoke-on-Trent based Barry Proctor Services, views the idea more favourably. "I think a toll road should be supplied by the government, especially when it is talking about H52 and the money it is prepared to spend on that. But if you are going to do that, it has to be set at a low tariff; I don't think anyone would object to paying £2," he says.
Comparative costs Hargreaves general manager Andrew Spence-Wolrich says it would carry out a mileage cost versus time taken on each route to calculate whether it would use any toll road. "We would take into account how this might affect a vehicle's productivity and daily earnings," he says. "If a new toll road was introduced that reduced costs after taking account of the toll, then we would use it. Either way, we calculate tolls into all rates quoted on a route-specific basis. We are not big users of the A14 but the same logic applies."
The DfT tells CM it will announce detailed plans on how it intends to deal with chronic congestion along the A14 in the autumn. A spokeswoman says: "No decision has been made; the model and what it will look like will depend on local funding contributions. This report provides guidance and you can only go on costs and prices as things are. It isn't an exact science.
"We are not saying we are going ahead; there's a lot more work that will go into that." •