Fear of competition leads to length row
30th May 1996
Page 7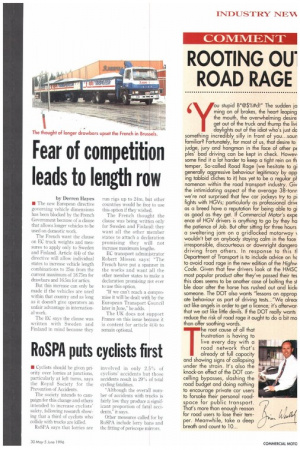 Page 7, 30th May 1996 —
Fear of competition leads to length row
Close
by Derren Hayes • The new European directive governing vehicle dimensions has been blocked by the French Government bemuse of a clause that allows longer vehicles to be used on domestic work.
The French want the clause on EC truck weights and measures to apply only to Sweden and Finland. Article 4(4) of the directive will allow individual states to increase vehicle length combinations to 25m from the current maximum of 18.75m for drawbars and 16.5m for attics.
But this increase can only be made if the vehicles are used within that country and as long as it doesn't give operators an unfair advantage in international work.
The EC says the clause was written with Sweden and Finland in mind because they run rigs up to 24m, but other countries would be free to use this option if they wished.
The French thought the clause was being written only for Sweden and Finland: they want all the other member states to attach a declaration promising they will not increase maximum lengths.
EC transport administrator Robert Missen says: "The French have put a spanner in the works and want all the other member states to make a declaration promising not ever to use this option.
"If we can't reach a compromise it will be dealt with by the European Transport Council later in June: he adds.
The UK does not support France on this issue because it is content for article 4(4) to remain optional.