Kinnock prepares to announce tolls
30th May 1996
Page 6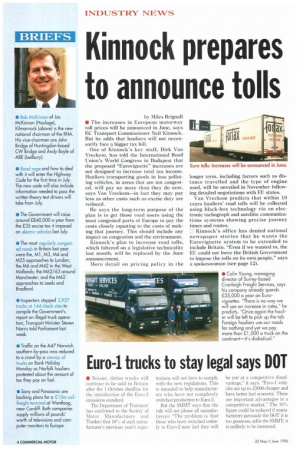 Page 6, 30th May 1996 —
Kinnock prepares to announce tolls
Close
by Miles Brignall • The increases in European motorway toll prices will be announced in June, says EC Transport Commissioner Neil Kinnock. But he adds that hauliers will not necessarily face a bigger tax bill.
One of Kinnock's key staff, Dirk Van Vreckem, has told the International Road Union's World Congress in Budapest that the proposed "Eurovignette" increases are not designed to increase total tax income. flauliers transporting goods in less polluting vehicles, in areas that are not congested, will pay no more than they do now, says Van Vreckem—in fact they may pay less as other costs such as excise duty are reduced.
He says the long-term purpose of the plan is to get those road users using the most congested parts of Europe to pay the costs closely equating to the costs of making that journey. This should include any impact on congestion and the environment.
Kinnock's plan to increase road tolls, which faltered on a legislative technicality last month, will be replaced by the June announcement.
More detail on pricing policy in the longer term, including factors such as distance travelled and the type of engine used, will be unveiled in November following detailed negotiations with EU states.
Van Vreckem predicts that within 10 years hauliers' road tolls will be collected using black-box technology via an electronic tachograph and satellite communications systems showing precise journey times and routes.
Kinnock's office has denied national newspaper stories that he wants the Eurovignette system to be extended to include Britain. "Even if we wanted to, the EU could not force the British Government to impose the tolls on its own people," says a spokeswoman (see page 12).
• Colin Young, managing di rector of Surrey-based Cranleigh Freight Services, says his company already spends 235,000 a year on Eurovignettes. "There is no way we will see an increase in rates," he predicts. "Once again the haulier will be left to pick up the tab. Foreign hauliers use our roads for nothing and yet we pay more than 21,000 a truck on the continent—it's diabolical."