Euro-1 trucks to stay legal says DOT
30th May 1996
Page 6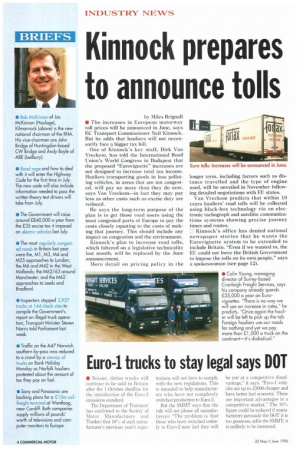 Page 6, 30th May 1996 —
Euro-1 trucks to stay legal says DOT
Close
• Noisier, dirtier trucks will continue to be sold in Britain after the 1 October deadline for the introduction of the Euro-2 emissions standard.
The Department of Transport has confirmed to the Society of Motor Manufactuers and Traders that 1.0"-. of each manufacturer's previous year's regis trations will not have to comply with the new regulations. This is intended to help manufacturers who have not completely switched production to Euro-2.
But the SMMT says that the rule will not please all manufacturers: "The problem is that those who have switched entirely to Euro-2 now feel they will be put at a competitive disadvantage." it says. "Euro-1 vehicles are up to £2000 cheaper and have better fuel economy. These are important advantages in a competitive market." The IOn figure could be reduced if manufacturers persuade the DOT it is too generous, adds the SMMT; it is unlikely to be increased.