'If this truck is badly driven blame the perso who recruited me'
30th May 1996
Page 47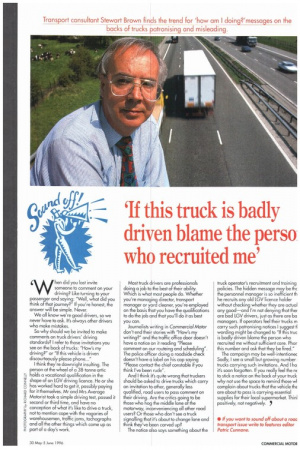 Page 47, 30th May 1996 —
'If this truck is badly driven blame the perso who recruited me'
Close
When did you last invite someone to comment on your driving? Like turning to your passenger and saying: "Well, what did you think of that journey?" If you're honest, the answer will be simple. Never.
We all know we're good drivers, so we never have to ask. It's always other drivers who make mistakes.
So why should we be invited to make comments on truck drivers' driving standards? I refer to those invitations you see on the back of trucks: "How's my driving?" or "If this vehicle is driven discourteously please phone..." I think they're downright insulting. The person at the wheel of a 38-tonne artic holds a vocational qualification in the shape of an LGV driving licence. He or she has worked hard to get it, possibly paying for it themselves. Mr and Mrs Average Motorist took a simple driving test, passed it second or third time, and have no conception of what it's like to drive a truck, not to mention cope with the vagaries of warehousemen, traffic jams, tachographs and all the other things which come up as part of a day's work. Most truck drivers are professionals doing a job to the best of their ability. Which is what most people do. Whether you're managing director, transport manager or yard cleaner, you're employed on the basis that you have the qualifications to do the job and that you'll do it as best you can. Journalists writing in Commercial Motor don't end their stories with "How's my writing?" and the traffic office door doesn't have a notice on it reading "Please comment on our routeing and scheduling" The police officer doing a roadside check doesn't have a label on his cap saying "Please contact the chief constable if you think I've been rude".
And I think it's quite wrong that truckers should be asked to drive trucks which carry an invitation to other, generally less qualified, road users to pass comment on their driving. Are the critics going to be those who hog the middle lane of the motorway, inconveniencing all other road users? Or those who don't see a truck signalling that it's about to change lane and think they've been carved up? The notice also says something about the truck operator's recruitment and training policies. The hidden message may be the the personnel manager is so inefficient th he recruits any old LGV licence holder without checking whether they are actual any good—and I'm not denying that ther are bad LGV drivers, just as there are ba managers. If operators feel their trucks m carry such patronising notices I suggest ti wording might be changed to "If this truc is badly driven blame the person who recruited me without sufficient care. Phor this number and ask that they be fired." The campaign may be well-intentionec Sadly, I see a small but growing number trucks carrying such invitations. And I ho it's soon forgotten. If you really feel the n( to stick a notice on the back of your truck why not use the space to remind those w1 complain about trucks that the vehicle the are about to pass is carrying essential supplies for their local supermarket. Thinl positively, not negatively.