Prove that you're competent
30th May 1996
Page 46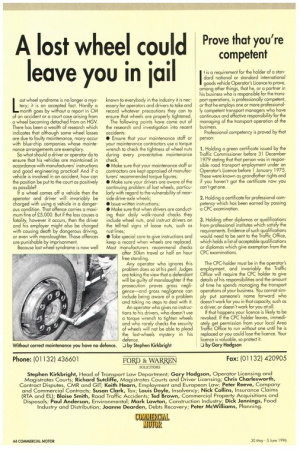 Page 46, 30th May 1996 —
Prove that you're competent
Close
It is a requirement for the holder of a standard national or standard international goods vehicle Operator's Licence to prove, among other things, that he, or a partner in his business who is responsible for the transport operations, is professionally competent, or that he employs one or more professionally competent transport managers who have continuous and effective responsibility for the managing of the transport operation of the business.
Professional competency is proved by that person: 1. Holding a green certificate issued by the Traffic Commissioner before 31 December 1979 stating that that person was in responsible road transport employment under an Operator's Licence before 1 January 1975. These were known as grandfather rights and if you haven't got the certificate now you can't get one.
2. Holding a certificate for professional competency which has been earned by passing a CPC examination.
3. Holding other diplomas or qualifications from professional institutes which satisfy the requirements. Evidence of such qualifications would need to be sent to the Traffic Office, which holds a list of acceptable qualifications or diplomas which give exemption from the CPC examinations.
The CPC-holder must be in the operator's employment, and invariably the Traffic Office will require the CPC holder to give details of his responsibilities and the amount of time he spends managing the transport operations of your business. You cannot simply put someone's name forward who doesn't work for you in that capacity, such as a driver, or doesn't work for you at all.
If that happens your licence is likely to be revoked. If the CPC holder leaves, immediately get permission from your local Area Traffic Office to run without one until he is replaced or you could lose the licence. Your licence is valuable, so protect it.
by Gary Hodgson