A lost wheel could leave you in jail
30th May 1996
Page 46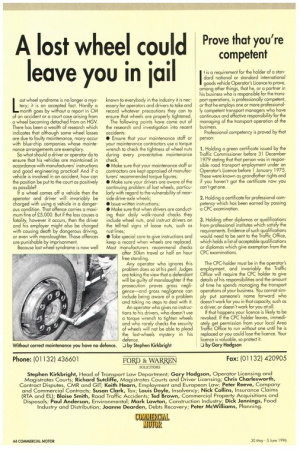 Page 46, 30th May 1996 —
A lost wheel could leave you in jail
Close
Lost wheel syndrome is no longer a mystery; it is an accepted fact. Hardly a month goes by without a report in CM of an accident or a court case arising from a wheel becoming detached from an HGV. There has been a wealth of research which indicates that although some wheel losses are due to faulty maintenance, many occur with blue-chip companies whose maintenance arrangements are exemplary.
So what should a driver or operator do to ensure that his vehicles are maintained in accordance with manufacturers' instructions and good engineering practice? And if a vehicle is involved in an accident, how can the position be put to the court as positively as possible?
If a wheel comes off a vehicle then the operator and driver will invariably be charged with using a vehicle in a dangerous condition. That offence carries a maximum fine of £5,000. But if the loss causes a fatality, however it occurs, then the driver and his employer might also be charged with causing death by dangerous driving, or even with manslaughter. Those offences are punishable by imprisonment.
Because lost wheel syndrome is now well known to everybody in the industry it is necessary for operators and drivers to take and record whatever precautions they can to ensure that wheels are properly tightened.
The following points have come out of the research and investigation into recent accidents: • Ensure that your maintenance staff or your maintenance contractors use a torque wrench to check the tightness of wheel nuts during every preventative maintenance check.
• Make sure that your maintenance staff or contractors are kept appraised of manufacturers' recommended torque figures;
• Make sure your drivers are aware of the continuing problem of lost wheels, particularly with regard to the vulnerability of nearside drive-axle wheels;
• Issue written instructions;
• Make sure that when drivers are conducting their daily walk-round checks they include wheel nuts, and instruct drivers on the tell-tail signs of loose nuts, such as rust lines; • Take special care to give instructions and keep a record when wheels are replaced. Most manufacturers recommend checks after 50km travel or half an hour free standing.
Any operator who ignores this problem does so at his peril. Judges are taking the view that a defendant will be guilty of manslaughter if the prosecution proves gross negligence—and gross negligence can include being aware of a problem and taking no steps to deal with it.
An operator who gives no instructions to his drivers, who doesn't use a torque wrench to tighten wheels and who rarely checks the security of wheels will not be able to plead the lost-wheels mystery in his defence.
—1 by Stephen Kirkbright