Prohibitions: you can fight back
30th May 1996
Page 45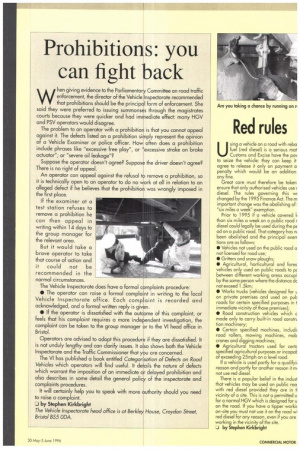 Page 45, 30th May 1996 —
Prohibitions: you can fight back
Close
when giving evidence to the Parliamentary Committee on road traffic enforcement, the director of the Vehicle Inspectorate recommended that prohibitions should be the principal form of enforcement. She said they were preferred to issuing summonses through the magistrates courts because they were quicker and had immediate effect: many HGV and PSV operators would disagree.
The problem to an operator with a prohibition is that you cannot appeal against it. The defects listed on a prohibition simply represent the opinion of a Vehicle Examiner or police officer. How often does a prohibition include phrases like "excessive free play", or "excessive stroke on brake actuator"; or "severe oil leakage"?
Suppose the operator doesn't agree? Suppose the driver doesn't agree? There is no right of appeal.
An operator can appeal against the refusal to remove a prohibition, so it is technically open to an operator to do no work at all in relation to an alleged defect if he believes that the prohibition was wrongly imposed in the first place.
If the examiner at a test station refuses to remove a prohibition he can then appeal in writing within 14 days to the group manager for the relevant area.
But it would take a brave operator to take that course of action and it could not be recommended in the normal circumstances.
The Vehicle Inspectorate does have a formal complaints procedure: • The operator can raise a formal complaint in writing to the local Vehicle Inspectorate office. Each complaint is recorded and acknowledged, and a formal written reply is given.
• If the operator is dissatisfied with the outcome of this complaint, or feels that his complaint requires a more independent investigation, the complaint can be taken to the group manager or to the VI head office in Bristol.
Operators are advised to adopt this procedure if they are dissatisfied. It is not unduly lengthy and can clarify issues, It also shows both the Vehicle Inspectorate and the Traffic Commissioner that you are concerned.
The VI has published a book entitled Categorisation of Defects on Road Vehicles which operators will find useful. It details the nature of defects which warrant the imposition of an immediate or delayed prohibition and also describes in some detail the general policy of the inspectorate and complaints procedures.
It will certainly help you to speak with more authority should you need to raise a complaint.
J by Stephen Kirkbright
The Vehicle inspectorate head office is at Berkley House, Croydon Street, Bristol BS5 ODA.