Do you know when to advertise?
30th May 1996
Page 44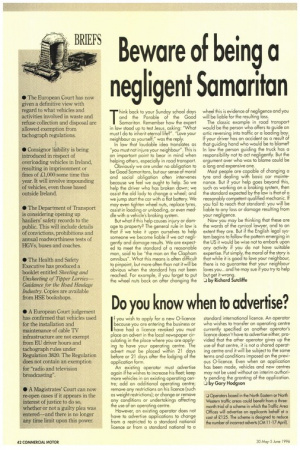 Page 44, 30th May 1996 —
Do you know when to advertise?
Close
If you wish to apply for a new 0-licence because you are entering the business or have had a licence revoked you must place an advert in the local newspaper circulating in the place where you are applying to have your operating centre. The advert must be placed within 21 days before or 21 days after the lodging of the application form.
An existing operator must advertise again if he wishes to increase his fleet; keep more vehicles in an existing operating centre; add an additional operating centre; remove any restrictions on his licence (such as weight restrictions); or change or remove any conditions or undertakings affecting the use of an operating centre.
However, an existing operator does not have to advertise applications to change from a restricted to a standard national licence or from a standard national to a
standard international licence. An operator who wishes to transfer an operating centre currently specified on another operator's licence doesn't have to advertise either, provided that the other operator gives up the use of that centre, it is not a shared operating centre and it will be subject to the same terms and conditions imposed on the previous 0-licence. Even when an application has been made, vehicles and new centres may not be used without an interim authority pending the granting of the application.
by Gary Hodgson