No guarantee ol lifetime licences
30th May 1996
Page 43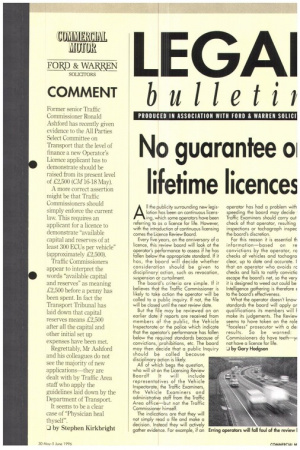 Page 43, 30th May 1996 —
No guarantee ol lifetime licences
Close
All the publicity surrounding new legislation has been on continuous licensing, which some operators have been referring to as a licence for life. However, with the introduction of continuous licensing comes the Licence Review Board.
Every five years, on the anniversary of a licence, this review board will look at the operator's performance to assess if he has Fallen below the appropriate standard. If it has, the board will decide whether consideration should be given to disciplinary action, such as revocation, suspension or curtailment. The board's criteria are simple. If it believes that the Traffic Commissioner is likely to take action the operator will be called to a public inquiry. If not, the file will be closed until the next review date.
But the file may be reviewed on an earlier date if reports are received from members of the public, the Vehicle Inspectorate or the police which indicate that the operator's performance has fallen below the required standards because of convictions, prohibitions, etc. The board may then decide that a public Inquiry should be called because disciplinary action is likely. All of which begs the question, who will sit on the Licensing Review Board? It will include representatives of the Vehicle Inspectorate, the Traffic Examiners, the Vehicle Examiners and administrative staff from the Traffic Area office—but not the Traffic Commissioner himself.
The indications are that they will not simply read a file and make a decision. Instead they will actively gather evidence. For example, if an operator has had a problem with speeding the board may decide Traffic Examiners should carry out check of that operator, resulting inspections or tachograph inspec the board's discretion.
For this reason it is essential th information—based on re convictions by the operator, ro checks of vehicles and tachogra clear, up to date and accurate. I that an operator who avoids rc checks and fails to notify convictio escape the board's net, so the very it is designed to weed out could be Intelligence gathering is therefore t to the board's effectiveness.
What the operator doesn't know standards the board will apply ar qualifications its members will I make its judgements. The Review seems to have taken on the role "faceless" prosecutor with a de: results. So be warned: Commissioners do have teeth—ye not have a licence for life.
by Gary Hodgson