COMMENT
30th May 1996
Page 43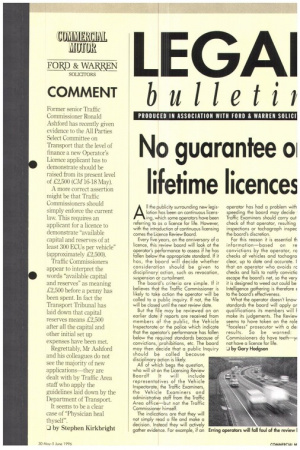 Page 43, 30th May 1996 —
COMMENT
Close
Former senior Traffic Commissioner Ronald Ashford has recently given evidence to the All Parties Select Committee on Transport that the level of finance a new Operator's
•Licence applicant has to demonstrate should be raised from its present level of £2,500 (CM16-18 May).
A more correct assertion might be that Traffic Commissioners should simply enforce the current law. This requires an applicant for a licence to demonstrate "available capital and reserves of at least 300 ECUs per vehicle" (approximately £2,500).
Traffic Commissioners appear to interpret the • words "available capital and reserves" as meaning £2,500 before a penny has been spent. In fact the Transport Tribunal has laid down that capital reserves means £2,500 after all the capital and other initial set up expenses have been met.
Regrettably, Mr Ashford and his colleagues do not see the majority of new applications—they are dealt with by Traffic Area staff who apply the guidelines laid down by the Department of Transport.
It seems to be a clear case of "Physician heal thyself".
by Stephen Kirkbright