W as it only two years ago that the Channel Tunnel
30th May 1996
Page 41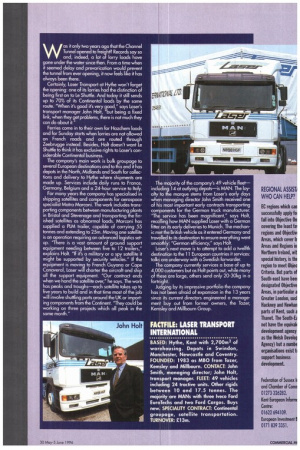 Page 41, 30th May 1996 —
W as it only two years ago that the Channel Tunnel
Close
opened to freight? Records say so and, indeed, a lot of lorry loads have gone under the water since then. From a time when it seemed delay and prevarication would prevent the tunnel from ever opening, it now feels like it has always been there.
Certainly, Laser Transport at Hythe won't forget the opening: one of its lorries had the distinction of being first on to Le Shuttle. And today it still sends up to 70% of its Continental loads by the same route, "When it's good it's very good," says Laser's transport manager John Holt, "but being a fixed link, when they get problems, there is not much they can do about it."
Ferries come in to their own for Hazchem loads and for Sunday starts when lorries are not allowed on French roads and are routed through Zeebrugge instead. Besides, Holt doesn't want Le Shuttle to think it has exclusive rights to Laser's considerable Continental business.
The company's main work is bulk groupage to several European destinations and to this end it has depots in the North, Midlands and South for collections and delivery to Hythe where shipments are made up. Services include daily runs to France, Germany, Belgium and a 24-hour service to Italy. For many years the company has specialised in shipping satellites and components for aerospace specialist Matra Marconi. The work includes transporting components between manufacturing plants in Bristol and Stevenage and transporting the finished satellites as abnormal loads. Marconi has supplied a PLM trailer, capable of carrying 55 tonnes and extending to 25m. Moving one satellite is an operation requiring an advanced logistics setup. "There is a vast amount of ground support equipment needing between five to 12 trailers," explains Holt. "If it's a military or a spy satellite it might be supported by security vehicles." If the equipment is moving to French Guyana or Cape Canaveral, Laser will charter the aircraft and ship all the support equipment "Our contract ends when we hand the satellite over," he says. The work has peaks and troughs—each satellite takes up to five years to build and in that time most of the job will involve shuttling parts around the UK or importing components from the Continent. "They could be working on three projects which all peak in the same month."
The majority of the company's 49 vehicle fleet— including 14 at outlying depots—is MAN. The loyalty to the marque stems from Laser's early days when managing director John Smith received one of his most important early contracts transporting components for the German truck manufacturer. "The service has been magnificent," says Holt, recalling how MAN supplied Laser with a German fitter on its early deliveries to Munich. The mechanic met the British vehicle as it entered Germany and travelled to its destination to ensure everything went smoothly: 'German efficiency," says Holt.
Laser's next move is to attempt to add a twelfth destination to the 11 European countries it services: talks are underway with a Swedish forwarder.
The company currently services a base of up to 4,000 customers but as Holt points out, while many of these are large, others send only 20-30kg in a fortnight
Judging by its impressive portfolio the company has not been afraid of expansion in the 13 years since its current directors engineered a management buy out from former owners, the Tozer, Kernsley and Millbourn Group.