L ooking at Cohn Mckay's smartly liveried and impeccably groomed fleet
30th May 1996
Page 38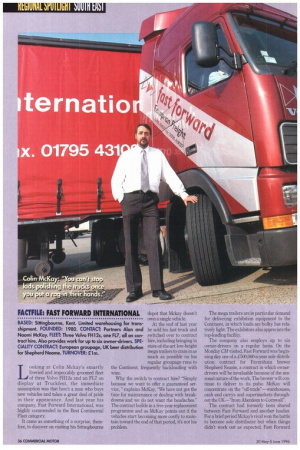 Page 39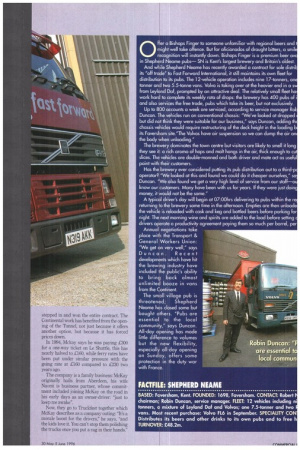 Page 38, 30th May 1996 —
L ooking at Cohn Mckay's smartly liveried and impeccably groomed fleet
Close
of three Volvo FH12s and an FL7 on display at Truckfest, the immediate assumption was that here's a man who buys new vehicles and takes a great deal of pride in their appearance. And last year his company, Fast Forward International, was highly commended in the Best Continental Fleet category.
It came as something of a surprise, therefore, to discover on visiting his Sittingbourne depot that Mckay doesn't own a single vehicle. At the end of last year he sold his last truck and switched over to contract hire, including bringing in state-of-the-art low-height mega trailers to cram in as much as passible on his regular groupage runs to frequently backloading with the Continent, wine.
Why the switch to contract hire? "Simply because we want to offer a guaranteed service, " explains McKay, "We have not got the time for maintenance or dealing with breakdowns and we do not want the headaches." The contract builds in a five-year replacement programme and as McKay points out if the vehicles start becoming more costly to maintain toward the end of that period, it's not his problem. The mega trailers are in particular demand for delivering exhibition equipment to the Continent, in which loads are bulky but relatively light. The exhibitors also appreciate the top-loading facility. The company also employs up to six owner-drivers on a regular basis. On the Monday CM visited, Fast Forward was beginning day one of a £500,000-a-year sole distribution contract for Faversham brewer Shepherd Neame, a contract in which ownerdrivers will be invaluable because of the seasonal nature of the work. The brewer will continue to deliver to its pubs: McKay will concentrate on the "off-trade"—warehouses, cash and (..m.rrys and supermarkets throughout the UK—"from Aberdeen to Cornwall".
The contract had formerly been shared between Fast Forward and another haulier. For a brief period Mckay's rival won the battle to become sole distributor but when things didn't work out as expected, Fast Forward stepped in and won the entire contract. The Continental work has benefited from the opening of the Tunnel, not just because it offers another option, but bemuse it has forced prices down.
In 1994, Mckay says he was paying £300 for a one-way ticket on Le Shuttle, this has nearly halved to .£160, while ferry rates have been put under similar pressure with the going rate at £160 compared to £230 two years ago.
The company is a family business: McKay originally hails from Aberdeen, his wife Naomi is business partner, whose commitment included joining McKay on the road in his early days as an owner-driver: "just to keep me awake".
Now, they go to Truckfest together which McKay describes as a company outing: "les a morale boost for the drivers,' he says. "and the kids love it. You can't stop them polishing the trucks once you put a rag in their hands."