0 ffer a Bishops Finger to someone unfamiliar with regional
30th May 1996
Page 39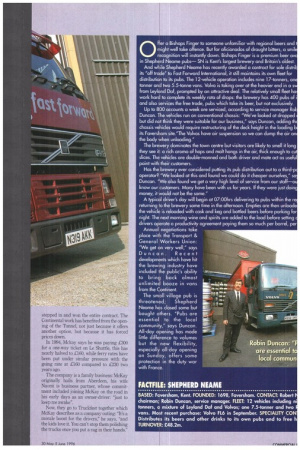 Page 39, 30th May 1996 —
0 ffer a Bishops Finger to someone unfamiliar with regional
Close
beers and might well take offence. But for aficionados of draught bitters, a smil recognition will instantly dawn. Bishops Finger is a premium beer av in Shepherd Neame pubs— SN is Kent's largest brewery and Britain's oldest.
And while Shepherd Neame has recently awarded a contract for sole distri its "off trade" to Fast Forward International, it still maintains its own fleet for distribution to its pubs The 12 vehicle operation includes nine 17-tonners, on tanner and two 5.5-tonne vans. Volvo is taking over at the heavier end in a s From Leyland Oaf, prompted by an attractive deal The relatively small fleet ha work hard to complete its weekly rota of drops: the brewery has 400 pubs of i and also services the free trade, pubs which take its beer, but not exclusively.
Up to 800 accounts a week are serviced, according to service manager Ro Duncan. The vehicles run on conventional chassis: 'We've looked at dropped but did not think they were suitable for our business," says Duncan, adding th chassis vehicles would require restructuring of the deck height in the loading lp its Faversham site."The Volvos have air suspension so we can dump the air an the body when unloading."
The brewery dominates the town centre but visitors are likely to smell it long they see it: a rich aroma of hops and malt hangs in the air, thick enough to cu slices. The vehicles are double-manned and both driver and mate act as useful point with their customers.
Has the brewery ever considered putting its pub distribution out to a third-p operator? "We looked at this and found we could do it cheaper ourselves," sa Duncan. We also found we get a very high level of service from our staff—o know our customers. Many have been with us for years. If they were just cloin money, it would not be the same."
A typical driver's day will begin at 07:00hrs delivering to pubs within the r returning to the brewery some time in the afternoon. Empties are then unloade the vehicle is reloaded with cask and keg and bottled beers before parking for night. The next morning wine and spirits are added to the load before setting drivers operate a productivity agreement paying them so much per barrel, per
Annual negotiations take place with the Transport & General Workers Union"We get on very well," says Duncan. Recent developments which have hit the brewing industry have included the public's ability to bring back almost unlimited booze in vans from the Continent.
The small village pub is threatened; Shepherd Neame has closed some but bought others. "Pubs are essential to the local community," says Duncan. All-day opening has made little difference to volumes but the new flexibility, especially all-day opening on Sunday, offers some protection in the duty war with France.