H auliers' consortiums are clearly flavour of the month in Sussex.
30th May 1996
Page 34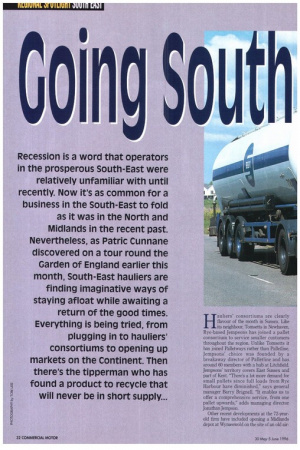 Page 35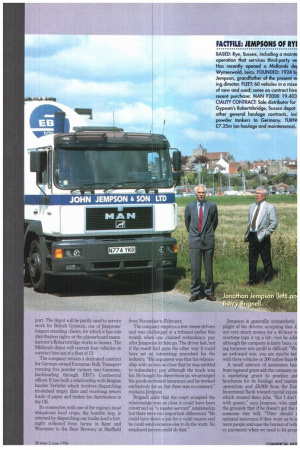 Page 36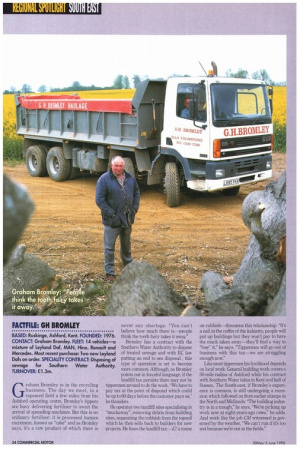 Page 37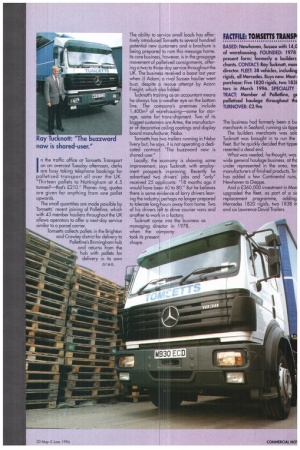 Page 34, 30th May 1996 —
H auliers' consortiums are clearly flavour of the month in Sussex.
Close
Like its neighbour. Tomsetts in Newhaven, Rye-based Jempsons has joined a pallet consortium to service smaller customers throughout the region. Unlike Tomsetts it has joined Palletways rather than Palletline. Jempsons' chbice was founded by a breakaway director of Palletline and has around 60 members with a hub at Litchfield. Jempsons' territory covers East Sussex and part of Kent. "There's a lot more demand for small pallets since full loads from Rye Harbour have diminished," says general manager Barry Brignell. "It enables us to offer a comprehensive service, from one pallet upwards," adds managing director Jonathan Jempson.
Other recent developments at the 72-yearold firm have included opening a Midlands depot at Wymeswold on the site of an old air port. The depot will be partly used to service work for British Gypsum, one of jempsons' longest standing clients, for which it has sole distribution rights at the plasterboard manufacturer's Robertsbridge works in Sussex. The Midlands depot will operate four vehicles on contract hire out of a fleet of 13.
The company retains a dedicated contract for German-owned European Bulk Transport running five powder tankers into Germany, backloading through EBT's Continental offices. It has built a relationship with Belgian haulier Verhelst which involves dispatching tri-decked empty flats and receiving return loads of paper and timber for distribution in the UK.
Its connection with one of the region's most ubiquitous local crops, the humble hop, is retained by dispatching one trailer-load a fortnight collected from farms in Kent and Worcester to the Bass Brewery at Sheffield from November to February.
The company employs a few owner-driver's and was challenged at a tribunal earlier this month when one claimed redundancy pay after Jempsons let him go. The driver lost, but if the result had gone the other way it could have set an interesting precedent for the industry. "His argument was that his relationship with us was so close that he was entitled to redundancy pay although the truck was his. He bought his diesel from us, we arranged his goods-imtansit insurance and he worked exclusively for us, but there was no contract," explains Jempson.
Brignell adds that the court accepted the relationship was so close it could have been construed as "a master-servant" relationship but there were two important differences: 'He could turn down a job for a valid reason and he could send someone else to do the work. No employed person could do that." Jempson is generally sympathetic plight of his drivers, accepting that .0 not very much money for a 40-hour w overtime tops it up a bit—but he add: although the company is fairly busy, cc ing turnover into profit is difficult: "We an awkward size, you are maybe bet with three vehicles or 300 rather than 6( A small amount of assistance has from regional grant aid: the company re a marketing grant to produce pul brochures for its haulage and mainte operations and £6,000 from the Eur Investment Bank toward capital expen which created three jobs. "But I don't with grants," says Jempson, who appl the grounds that if he doesn't get the r someone else will. "They should national insurance if they want us to el more people and ease the burden of redu cy payments when we need to let peon
BASED: Ruskinge, Ashford, Kent. FOUNDED: 1976. CONTACT: Graham Bromley. FLEET: 14 vehicIes--a mixture of Leyland Dal, MAN, Hino, Renault and Mercedes. Most recent purchase: Two new Leyland Dafs on order. SPECIALITY CONTRACT: Disposing of sewage for Southern Water Authority. TURNOVER: 1 .3m.
Graham Bromley is in the recycling business. The day we meet, in a rapeseed field a few miles from his Ashford operating centre, Bromley's tippers are busy delivering fertiliser to await the arrival of spreading machines. But this is no ordinary fertiliser: it is processed human excrement, known as "cake" and as Bromley says, it's a raw product of which there is
never any shortage. "You can't believe how much there is people think the tooth fairy takes it away"
Bromley has a contract with the Southern Water Authority to dispose of treated sewage and with EC law putting an end to sea disposal , this type of operation is set to become more common. Although, as Bromley points out in forceful language, if the landfill tax persists there may not be tippermen around to do the work "We have to pay tax at the point of disposal which could be up to 60 days before the customer pays us," he thunders.
He operates two landfill sites specialising in "muckaway", removing debris from building sites, separating the rubbish from the topsoil which he then sells back to builders for new projects. He fears the landfill tax--47 a tonne on rubbish—threatens this relationship. "It's a nail in the coffin of the industry, people will put up buildings but they won't pay to have the muck taken away—they'll find a way to "lose" it." he says. "Tippermen will go out of business with this tax—we are struggling enough now."
Like most tippermen his livelihood depends on local work. General building work covers a 50-mile radius of Ashford while his contract with Southern Water takes in Kent and half of Sussex. The South-east, if Bromley's experience is common, is still undergoing a TeCesSion which followed on from earlier slumps in the North and Midlands: "The building industry is in a trough," he says, "We're picking up work now at eight-years-ago rates," he adds. And work like the job CM witnessed is governed by the weather, "We can't run if it's too wet because we're out in the fields." In the traffic office at Tomsetts Transport on an overcast Tuesday afternoon, clerks are busy taking telephone bookings for palletised transport all over the UK. "Thirteen pallets to Nottingham at 4.5 tonnes?—that's £210," Phones ring, quotes are given for anything from one pallet upwards.
The small quantities are made possible by Tomsetts' recent joining of Palletline, which with 43 member hauliers throughout the UK allows operators to offer a next-day service similar to a parcel carrier.
Tomsetts collects pallets in the Brighton and Crawley district for delivery to Palletline's Birmingham hub and returns from the hub with pallets for delivery in its own The ability to service small loads has effectively introduced Tomsetts to several hundred potential new customers and a brochure is being prepared to ram this message home. Its core business, however, is in the groupage movement of palletised consignments, offering a two to three-day service throughout the UK. The business received a boost last year when _kJ Adam, a rival Sussex haulier went bust, despite a rescue attempt by Acorn Freight, which also folded.
Tucknott's training as an accountant means he always has a weather eye on the bottom line. The company's premises include 1,400m2 of warehousing—some for storage, some for trans-shipment. Two of its biggest customers are Artex, the manufacturer of decorative ceiling coatings and display board manufacturer, Nobo.
Tomsetts has two trailers running in Nobo livery but, he says, it is not operating a dedicated contract: "The buzzword now is shared-user."
Locally, the economy is showing some improvement, says Tuclsnott, with employment prospects improving. Recently he advertised two drivers' jobs and "only" received 25 applicants: "18 months ago it would have been 60 to 80." But he believes there is some evidence of lorry drivers leaving the industry, perhaps no longer prepared to tolerate long hours away from home. Two of his drivers left to drive courier vans and another to work in a factory. Tucknott came into the business as managing director in 1978, when the company took its present shape. The business had formerly been a bu merchants in Seaford, running six tipp€ The builders merchants was solc Tucknott was brought in to run the fleet. But he quickly decided that tipper resented a dead end.
What was needed, he thought, was wide general haulage business, at thc under represented in the area, taq manufacturers of finished products. To I has added a few Continental runs, Newhaven to Dieppe.
And a 2360,000 investment in Man uperaded the fleet, as part of a Si) rep acement programme, adding Mercedes 1820 rigids, two 1838 tr and six Lawrence David Trailers.