I was disappointed with the tone of the article (CM 16-22
30th May 1996
Page 25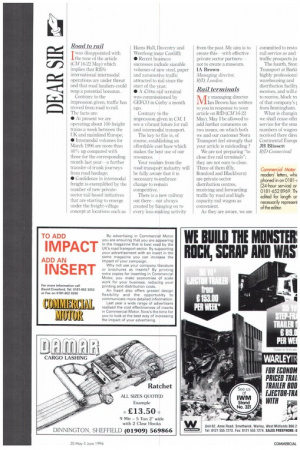 Page 25, 30th May 1996 —
I was disappointed with the tone of the article (CM 16-22
Close
May) which implies that RID's international intermodal operations are under threat and that road hauliers could reap a potential bonanza.
Contrary to the impression given, traffic has moved from road to rail. The facts are: • At present we are operating about 160 freight trains a week between the UK and mainland Europe;
• Intertnodal volumes for March 1996 are more than 400O up compared with those for the corresponding month last year—a further transfer of trunk journeys front road haulage;
• Confidence in intermodal freight is exemplified by the number of new private. sector rail-based initiatives that are starting to emerge under the freight-village concept at locations such as Hams Hall, Daventry and Wentkxig (near Cardiff); • Recent business successes include sizeable volumes of new steel, paper and automotive traffic attracted to rail since the start of the year; • A Lift rail terminal was commissioned by GEFCO in Corby a month ago.
Contrary to the impression given in CM. I see a vibrant future for rail and intermodal transport.
The key to this is, of course, establishing an affordable cost base which makes the best use of our resources.
Your readers from the road transport industry will be fully aware that it is necessary to embrace change to remain competitive.
There is a new railway out there– not always created by hanging on to every loss-making activity
from the past. My aim is to create this---with effective private sector partners not to create a museum. IA Brown
Managing director, RtD, London.
My managing director lan Brown has written to you in response to your article on RID (CM 16-22 May). May I be allowed to add further comments on two issues, on which both we and our customer Stora Transport feel strongly that your article is misleading ?
We are not preparing "to close five rail terminals"; they are not ours to close. Three of them (Ely, Romford and Blackburn) are private-sector distribution centres. receiving and forwarding traffic by road and high. capacity rail wagon as convenient.
As they are aware, we are committed to resta rail service as and traffic prospects ju: The fourth, Stun Transport at Barki highly professional warehousing and distribution facilit3 receives, and will c to receive, block trr of that company's I from Immingham.
What is changin we shall cease offet service for the sma numbers of wagon: received there direx Continental Europt JH Blissett
RID Connectrail