Wrong turn in Greece
30th May 1996
Page 22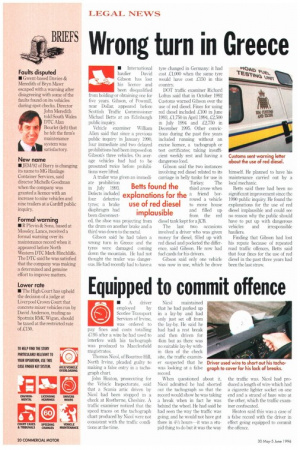 Page 22, 30th May 1996 —
Wrong turn in Greece
Close
• International haulier David Gibson has lost his licence and been disqualified from holding or obtaining one for five years. Gibson, of Powmill, near Dollar, appeared before Scottish Traffic Commissioner Michael Betts at an Edinburgh public inquiry Vehicle examiner William Allen said that since a previous public inquiry in January 1990, four immediate and two delayed prohibitions had been imposed on Gibson's three vehicles. On average vehicles had had to be presented twice before prohibitions were lifted.
A trailer was given an immediate prohibition
in July 1993. Betts found the Defects inci"ded explanations for the four defective tyres; a brake use of red diesel
diaphragm had diaphragm had Gibson said he had taken a wrong turn in Greece and the tyres were damaged coming down the mountain. He had not thought the trailer was dangerous. He had recently had to have N tyre changed in Germany: U. had cost £1,000 when the same tyre would have cost £150 in this country DOT traffic examiner Richard Loftus said that in October 1992 Customs warned Gibson over the use of red diesel. Fines for using red diesel included £100 in June 1993, £1,750 in April 1994, £2,500 in July 1994 and £2,750 in December 1995. Other convictions during the past five years included running without an excise licence, a tachograph or test certificates; taking insufficient weekly rest and having a dangerous load.
Gibson said the two instances involving red diesel related to its carriage in belly tanks for use in Turkey. The third arose when a friend borrowed a vehicle to move house • and filled up from the red diesel tank kept for a JCB.
The last two occasions involved a driver who was given money for diesel, filled up with red diesel and pocketed the difference, said Gibson. He now had fuel cards for his drivers.
Gibson said only one vehicle was now in use, which he drove
himself. He planned to have his maintenance carried out by a local mechanic.
Betts said there had been no significant improvement since the 1990 public inquiry He found the explanations for the use of red diesel implausible and could see no reason why the public should have to put up with dangerous vehicles and irresponsible hauliers.
Finding that Gibson had lost his repute because of repeated road traffic offences, Betts said that four fines for the use of red diesel in the past three years had been the last straw.