Equipped to commit offence
30th May 1996
Page 22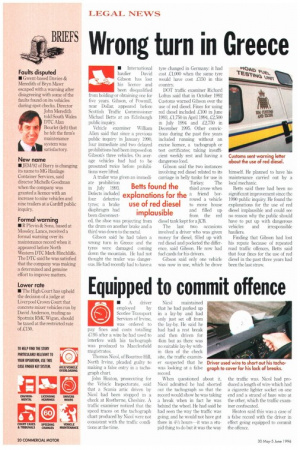 Page 22, 30th May 1996 —
Equipped to commit offence
Close
• A driver employed by Scotlee Transport Services of Irvine, was ordered to pay fines and costs totalling £195 after a wire he had used to interfere with his tachograph was produced to Macclesfield magistrates.
Thomas Nicol, of Bourtree Hill, North Irvine, pleaded guilty to making a false entry in a tachograph chart.
John Heaton, prosecuting for the Vehicle Inspectorate, said that a Scania artic driven by Nicol had been stopped in a check at Rostherne, Cheshire. A traffic examiner noticed that the speed traces on the tachograph chart produced by Nicol were not consistent with the traffic conditions at the time, Nicol maintained that he had parked up in a lay-by and had only just set off from the lay-by. He said he had had a rest break and then driven for 4km but as there was no suitable lay-by within 4km of the check site, the traffic examiner suspected that he was looking at a false record.
When questioned about it, Nicol admitted he had shorted out the tachograph so that the record would show he was taking a break when in fact he was behind the wheel. He had said he had seen the way the traffic was going, and he would not have got there in 41/2 hours—it was a stupid thing to do but it was the way the traffic was. Nicol had produced a length of wire which had a cigarette lighter socket on one end and a strand of bare wire at the other, which the traffic examiner confiscated.
Heaton said this was a case of a false record with the driver in effect going equipped to commit the offence.