How to make a bus load of children Save over feel good about your company £100,000
30th May 1996
Page 17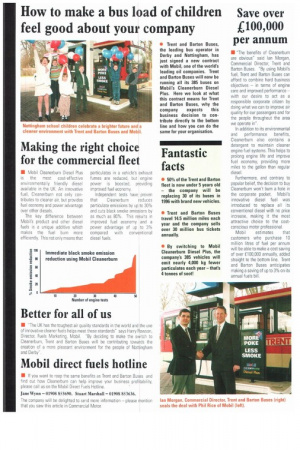 Page 17, 30th May 1996 —
How to make a bus load of children Save over feel good about your company £100,000
Close
per annum
• "The benefits of Cleanerburn are obvious" said Ian Morgan, Commercial Director, Trent and Barton Buses. "By using Mobil's fuel, Trent and Barton Buses can afford to combine hard business objectives — in terms of engine care and improved performance — with our desire to act as a responsible corporate citizen by doing what we can to improve air quality for our passengers and for the people throughout the area we operate in".
In addition to its environmental and performance benefits, Cleanerburn also contains a detergent to maintain cleaner engine fuel systems. This helps to prolong engine life and improve fuel economy, providing more miles to the gallon than regular diesel.
Furthermore, and contrary to popular belief, the decision to buy Cleanerburn won't burn a hole in the corporate pocket. Mobil's innovative diesel fuel was introduced to replace all its conventional diesel with no price increase, making it the most attractive choice to the costconscious motor professional.
Mobil estimates that customers who purchase 10 million litres of fuel per annum will be able to make a cost saving of over £100,000 annually, added straight to the bottom line. Trent and Barton Buses anticipates making a saving of up to 3% on its annual fuels bill.