THE A.E.C. REGENT MARK III WE would like to reply
30th May 1947
Page 51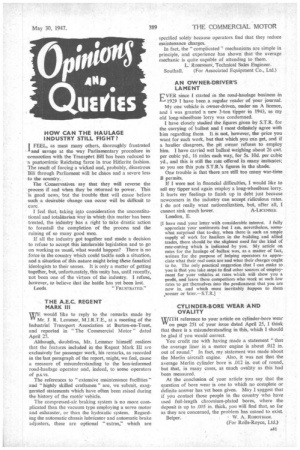 Page 51, 30th May 1947 —
THE A.E.C. REGENT MARK III WE would like to reply
Close
to the remarks made by " Mr, I. R, Lemmer, at a meeting of the Industrial Transport Association at Burton-on-Trent, and reported in "The Commercial Motor" dated April 25.
Although, doubtless, Mr. Lemmer himself realizes that the features included in the Regent Mark III are exclusively for passenger work, his remarks, as recorded in the last paragraph of the report, might, we feel, cause a measure of misunderstanding to the less-informed road-haulage operator and, indeed, to some operators of p_s_vs.
The references to "extensive maintenance facilities" and "highly skilled craftsmen" are, we submit, exaggerated statements which have often been raised during the history of the motor vehicle.
The compressed-air braking system is no more complicated than the vacuum type employing a servo motor and exhauster, or than the hydraulic system. Regarding the automatic chassis lubricator and automatic brake adjusters, these are optional "extras," which are specified solely because operators find that they reduce maintenance charges.
In fact, the " complicated " mechanisms are simple in principle, and experience has shown that the average mechanic is quite rApable of attending to them.
L: ROBENSCIN, Technical Sales Engineer.
Southall. (For Associated Equipment Co., Ltd.)