NOTTINGHAM'S NEW FORD DEPOT.
30th May 1922
Page 37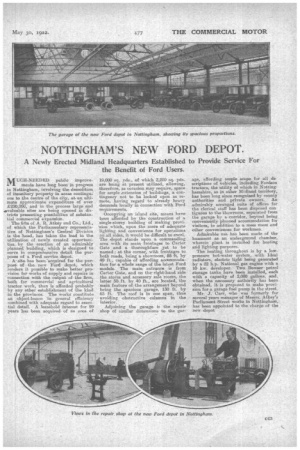 Page 37, 30th May 1922 —
NOTTINGHAM'S NEW FORD DEPOT.
Close
A Newly Erected Midland Headquarters Established to Provide Service For the Benefit of Ford Users.
MUCH-NEEDED public improvements have long been in progress in Nottingham, involving the demolition of insanitary property in areas contingu. ous to the centre of the city, at. an ultimate approximate expenditure of over
250,000, and in the process large and .valuable sites are being opened in districts presenting possibilities of substantial commercial expan.sicrn.
The firm of A. R. Atkey and Co.,:Ltd., of which the Parliamentary representative of Nottingham's Central Division is the head, has taken the lead iii the utilization of newly created opportunities by the erection of an admirably planned. building, which is designed to serve in comprehensive detail the purposes of a Ford service depot. A. site has been acquiredfor the purpose of the, new Ford depot, which renders it possible to make better provision for works of supply and repairs in connection with the output of the firm, both for commercial and agricultural tractor work, than is afforded probably by any other establishment of the kind in the provinces. The works constitute an object-lesson in general efficiency combined with adequate regard to essential detail. A leasehold interest for 99 years has been acquired of an area of
19,000 Eq. yds., of which 2,200 sq. yds. are being at present utilized, allowing, therefore, as occasion may require, space for ample .extension of buildings, a contingency not to be looked upon as remote, having regard to already heavy demands locally in connection with Ford requirements.
Occupying an island site, means have been afforded by the construction of a single-storey building of making provision which, upon the score of adequate lighting and convenience for operations on all sides, it would he difficult to excel. The depot stands upon a commanding area with its main frontages to Carter Gate and a, thoroughfare .yet to be named; at the corner, with frontages to both roads, being a showroom, 55 ft, by 40 ft., capable of affording accommodation for a whole range of the latest Ford models. The main entrance is from Carter Gate, and on the right-hand side the stores and accessory sale rooms, the latter 50 ft. by 40 ft., are located, the main feature of the arrangement beyond being the spacious garage, 130 ft. by 65 ft. The roof is in one span, thus avoiding obstructive cohmins in the interior.
Adjoining the garage is the repair shop of similar dimensions to the gar
age, affording ample scope for all do. scriptions of vehicles, including Fordson tractors, the utility of which in Nottinghamshire, as in other Midland territory, has been long since recognized by county authorities and private owners. An admirably arranged suite of offices for the clerical staff has beon disposed con tiguous to the `showroom, separated from the garage by a corridor, beyond being conveniently planned accommodation for visitors, in addition to a mess room and other conveniences for workmen.
Admirable use has been made of the basement as an underground chamber, wherein plant is installed for heating arid lighting purposes.
The heating throughout is by a lowpressure hot-water system, with Ideal radiators, electric light being generated by a 22 h.p. National gas engine with a 10 kw. developer. Two Bowser petrol storage tanks have been installed, each with a capacity of 2,000 gallens, and, when the necessary authority has been obtained, it is proposed to make provision for a garage fuel pump in the street.
Mr. J. Carr, who was formerly for several years manager of Messrs. Atkey's Parliament Street works in Nottingham, has been appointed to the charge of the new depot