A BUILDERS' MERCHANT'S FLEET.
30th May 1922
Page 30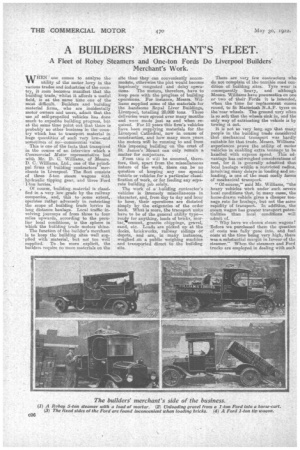 Page 31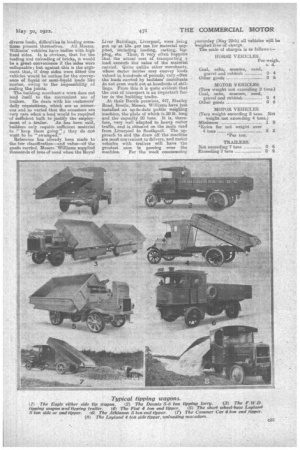 Page 30, 30th May 1922 —
A BUILDERS' MERCHANT'S FLEET.
Close
A Fleet of Robey Steamers and One-ton Fords Do Liverpool Builders' Merchant's Work.
WHEN one comes to analyse the utility of the motor lorry in the various trades and industries of the country, it soon becomes manifest that the building trade, whilst it affords a useful field, is at the same time one of the most difficult. Builders and building material firms, who are incidentally motor owners and users, admit that the use of self-propelled vehicles has done much to expedite building progress, but at the same time point out that there is probably no other business in the country which has to transport material in liege quantities of such very low—and sometimes of no—commercial value.
• This is one of the facts that transpired in the course of an interview which a Commercial Motor representative had with Mr. D.C. Williams, of Messrs. D. C. Williams, Ltd., one of the principal firms of building contractors merchants in Liverpool. The fleet consists of three 5-ton steam wagons W'ith hydraulic tipping gear, and three Ford 1-ton lorries.
Of course, building material is classified in a very low grade by the railway companies, and, this to some extent, operates rather adversely in restricting the scope of building trade lorries in long distance haulage. Local traffic involving journeys of from three to four miles upwards; according to the peculiar local conditions, is the sphere in which the building trade motors shine.
The function of the builder's merchant in to keep the building sites well supplied with material, but not too well supplied: To be more explicit, the builders require no more materials on the site than they can conveniently accommodate, otherwise the plot would become hopelessly congested and delay opera tions. The Motors, therefore, have to keep pace with the progiess of building operations. For instance, Messrs. Williams supplied some of the materials for the handsome Royal Liver Buildings, Liverpool, totalling 20,000 tons. These deliveries were spread over many months and were made just as and when required. For 12 years this firm's vehicles have been supplying materials for the Liverpool Cathedral, now in course of construction, and haw many more years the motors will be running to and from this imposing building on the crest of St. James's Mount can only remain a matter for conjecture. • Front this it will be assumed, therefore, that, apart from the miaaellaneous nature of the work, there can be no question of keeping any one special vehicle or vehicles for a particular classification of work, or for feeding any separate building job solely.
The work of a building contractor's vehicles is intensely miscellaneous in character, and, from day to day and hour to hour, their operations are dictated simply by the exigencies of the order book. What is more, the transport units have to be of the general utility type— ready for anything, loads of bricks, mortar7coment, granite chippings, gravel, sand, etc. Loads are picked up at the docks, brickworks, railway sidings or depots, and are, in many instances, weighed On a public weighing machine and transported direct to the building site.
There are very few contractors who do not complain of the terrible road condition of building sites. Tyre wear is consequently -heavy, and although Messrs. Williams have pneumatics on one or two of their Fords it is intended, when the time for replacement comes round, to fit Macintosh N.A.P. tyres on the rearwheels. The ground very often is so soft that the wheels s.ink in, and the only way of extricating the vehicle is by towing it out.
It is not so very long ago that many people in the building trade Considered that mechanical transport was hardly suitable for that trade. Messrs. Williams' experiences prove the utility of motor vehicles in enabling extra tonnage to be handled with express speed. This advantage haa outweighed considerations of cost, for it is generally admitted that local haulage within a restricted radius, involving many delays in 'loading and unloading, is one of the most costly forms a. meehanical transport.
"Ofcourse7 said Mr. Williams, "the heavy vehicles wark under such severe local conditions that, in many cases, the horse-drawn vehicle gives a cheaper tonnage. rate for haulage, but not the same rapidity of transport. In addition, the steam wagon has greater transport potentialities than local conditions will admit of.
" Why have we chosen steam wagons? Before we purchased them the question of costs was fully g, one into, and fuel costs at the time being very high, there was a, substantial margin in favour of the steamer." When the steamers and Ford trucks are employed in dealing with such
diverse loads, diffictilties in loading some
' times present themselves. All Messrs. Williams' vehicles have bodies with high fixed sides. It is obvious, that for the leading and unheeding of bricks, it would be a great convenience if the sides were collapsable; but against this is the argument that, if drop sides were fitted the vehicles would be useless for the conveyance of liquid or semi-liquid loads like mortar, owing to the impossibility of sealing the joints.
The building merchant's work does not lend itself to the convenient use of trailers. Re deals with his customers daily requisitions, which are so numerous and so varied that the occasions are very rare when a load would be required of sufficient balk to justify the employment of a trailer. As has been said, builders only require sufficient materiel to "keep them going" ; they do not want to be "swamped."
Reference has already been made to the law classification—and value—of the goods carried. Messrs:Williams supplied thousands of tons of sand when the Royal
Liver Buildings, Liverpool, were being put up at 13s. perton for material semplied, including loading, carting, tipping, etc. Thus, it very often happens that the actual cost of transporting a load exceeds the value of the material carried. Quite unlike other merchants, whose motor lorries may convey loads valued in hundreds of pounds,very often the loads carried by builders' merchants do not even work out at hundreds of effillings. From this it is quite evident that the cost of transport is an important factor in the building trades.
At their Bootle premises, 447, Stanley Road, Bootle, Messrs. Williams have just installed an up-to-date public weighing machine, the plate of which is 20 ft. long and the capacity 20 tons. It is, therefore, very well adapted to heavy motor traffic, and is situated on the main road from Liverpool to Southport. The approach to and the draw off the machine are most convenient to drivers, and motor vehicles with traileTs will have the greatest ease in passing over the machine. For the week commencing yesterday (May 29th) all vehicles Will be weighed free of charge. The scale of charges is as follows :— HORSE VEHICLES.
Per weigh. s. d.
Coal, coke, manure, sand, gravel and rubbish 0 4 Other goods ... 0 6 MOTOR VEHICLES.
(Tare weight not exceeding 2 tons.) Coal, coke, manure, sand, gravel and rubbish 0 4 Other geode 0 6 MOTOR VEHICLES.
(Tare weight exceeding 2 tons, Net weight not exceeding 4 tons.) Minimum I 0 +Extra for net weight over 4 tens ci 3 "Per ton.
TRAILERS.
Not exceeding 7 tons 0 6 Exceeding 7 tons 09